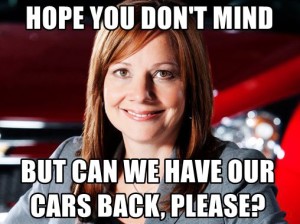 Today's recall topped the 10 million mark for General Motors in 2014. GM said the new recalls would cost $200 million on its second-quarter earnings report.
The largest recall in today's batch was for cars and trucks worldwide to fix five different safety problems that have triggered hundreds of complaints and some injuries, but no deaths.
This recall includes a handful of GM's redesigned pickups and SUVs, which have a potential steering problem. It's serious enough that GM sent owners of the recalled vehicles overnight-delivery letters Wednesday, telling them to stop driving the trucks and have them hauled — not driven — to dealers.
Also included in the big recall: 140,067 new Chevrolet Malibu for a faulty brake issue.
The issue affects the 2004-2012 Chevrolet Malibu, the 2004-2007 Chevrolet Malibu Maxx, the 2005-2010 Pontiac G6 and the 2007-2010 Saturn Aura. GM said it was aware of "several hundred" complaints connected to the problem, as well as 13 crashes causing two injuries and no fatalities.
9 Million Parts
That's what General Motors needs to repair millions of cars it has recalled since Feb. 7, 2014. With ignition switches, power steering motors, and other parts slowly arriving at dealerships, frustrated drivers face weeks or months of waiting.