Last Updated: November 2021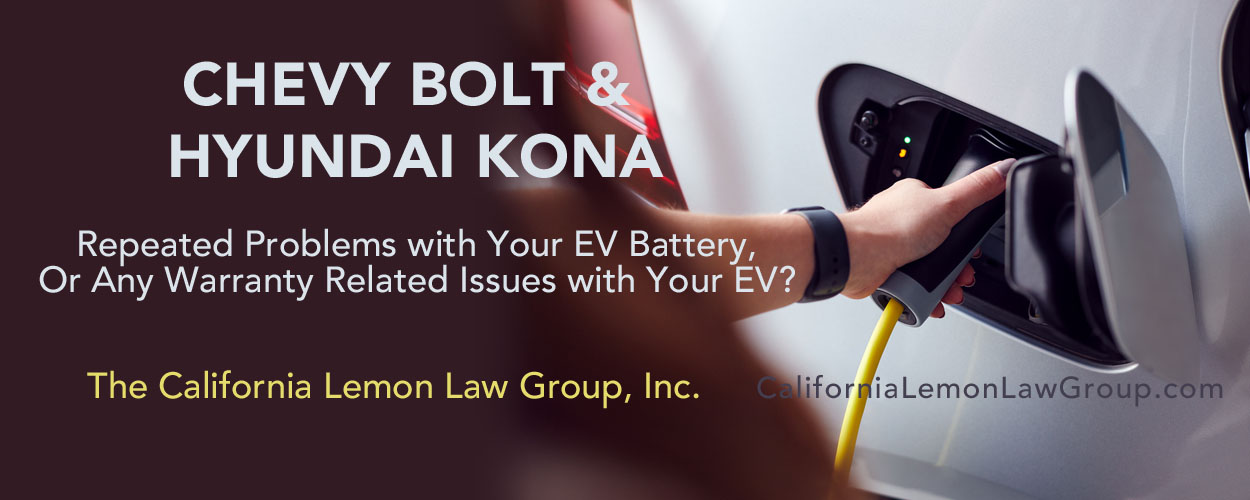 Electric vehicles (EV) don't have a transmission, but they do have their own set of problems that could possibly meet lemon law criteria in the state of California, such as continued electrical and/or battery failures.
Recently, GM recalled their all-electric Chevy Bolt for the second time due to the batteries catching fire suddenly and without any forewarning. These batteries, manufactured by LG Chem in South Korea, have the chance of catching fire even when the vehicle is not plugged in to charge.
GM is advising owners of 2017 – 2022 model year vehicles to keep their charges at a certain level (meaning that you shouldn't fully charge the battery) and recharge the battery after each use, instead of waiting until the battery is almost run down. They're also advising Chevy Bolt owners to park their vehicle outside after charging. Parking your Chevy Bolt in your garage could cause a fire that could burn down your house.
In the court of public opinion, putting an EV on the market that has the potential to burn down your house would, of course, be a reputation killer for GM. As such, GM is scrambling to come up with a solution to the battery problem to save their reputation, and market share. No such remedy has been developed yet. However, we have been successful in getting these vehicles repurchased for our clients.
Update: It was widely reported on Friday, August 20, that GM just extended their recall of the Chevy Bolt EVs (including the Bolt EUVs) by 3 years. The recall now covers model years 2017 – 2022.
GM isn't the only EV manufacturer with battery problems.
The US National Highway Traffic Safety Administration issued a recall for 2019 – 2020 Hyundai Kona and 2020 Hyundai Ioniq electric vehicles after over a dozen battery fires were reported.
Some owners of Hyundai Motor's Kona electric vehicles have complained about their recall program, citing delays and communication problems. We have also been successful in getting these vehicles repurchased for our clients.
A quick internet search regarding the EV battery fires brings up a number of class action lawsuits. As mentioned in our previous article, California residents have a much better, and much quicker, remedy for lemon cars so therefore have no reason to join in on a class action! We NEVER charge ANY fees to the consumer; our services are always 100% FREE for California residents!
The California Lemon Law applies to all new, used, or leased vehicles (model years 2017 and newer), whether they run on gas or electricity.
The California Lemon Law Group works only with California residents.
If you own a 2017 – 2022 CHEVY BOLT, or a 2019 – 2020 HYUNDAI KONA  and experiencing battery, or ANY warranty-related issues — and have taken your vehicle to an authorized dealership for repair — contact us!
Still not sure whether your new, used, or leased vehicle can be considered a lemon under the California Lemon Law?
Give us a call at 1-855-595-3666