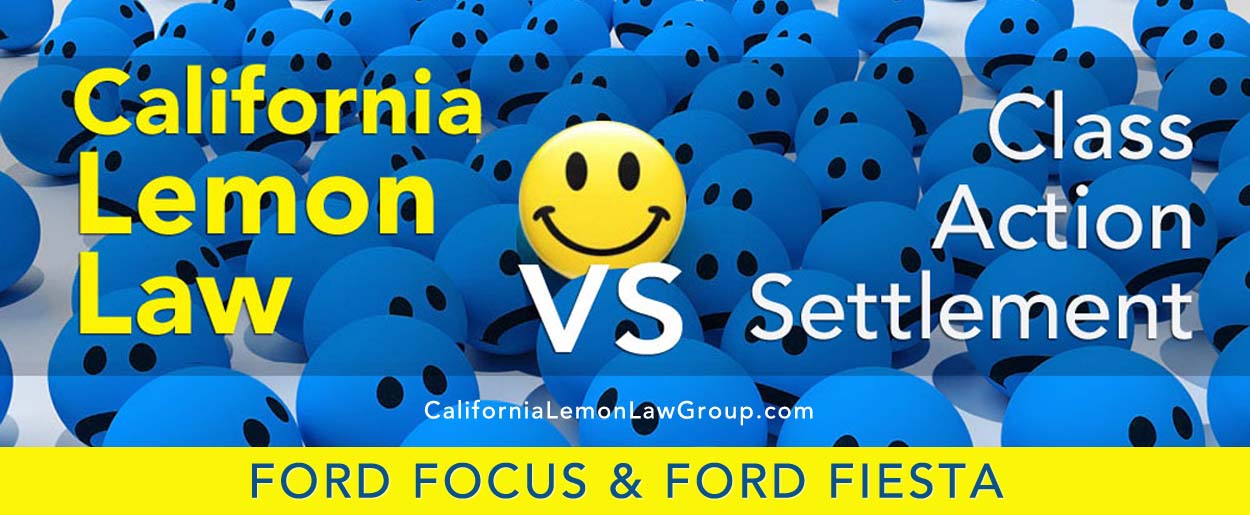 It's been reported that Ford knew its Fiesta and Focus cars had defective transmissions as far back as 2011, before the cars went on sale, yet sold them anyway. Now many Ford Focus and Ford Fiesta owners find themselves in one of these situations:
Your vehicle is part of the class action (2012 Focus and Fiesta purchased before April 25, 2017).
Your vehicle is not part of the class action (2012 to 2016 purchased after April 25, 2017).

Your 2017 – 2020 Fiesta or Focus has been taken to your Ford dealer for the EXACT SAME PROBLEM four or more times.
What You Need to do if You Have a 2017, 2018, 2019, or 2020 Ford Focus or Fiesta
Your vehicle is not a part of the class action settlement, so call us if your vehicle has had four or more repeat repairs for:
shuddering, hesitating, jerking,
lack of power,
failure to shift,
failure to start,
grinding,
activation of the "CHECK ENGINE" warning light,
activation of the "TRANSMISSION OVERHEAT" warning light, or
activation of the "TRANSMISSION MALFUNCTION"

The most important thing for you to do is take the vehicle to a Ford dealership for a transmission system repair as often as necessary, and keep a copy of every single piece of paperwork the Ford dealership gives to you.
As the California owner of a 2012 to 2017 Ford Fiesta or Focus, as of September 5, 2017, you had two options:
You OPTED OUT of the Class Action BEFORE September 5, 2017
You DID NOT OPT OUT, so you're now included in the Class Action
If you Opted Out before 9-5-17,

and are a resident of California, please call our Firm at 1-855-595-3666 to pursue a Lemon Law Case

If you mailed a letter to the Claims Administrator pursuant to Ford's Class Action Notice to OPT OUT of the settlement on or before 9-5-17, then we may be able to assist you with a lemon law claim.
What does a California Lemon Law Buyback mean for you? In a California Lemon Law Buyback, the consumer is entitled to a refund of the following:
Your WHOLE down payment; and
ALL of the monthly payments you've made; and
This year's registration fee; and
Ford will pay off your ENTIRE loan balance directly to your lender; and
The only amount(s) that will be deducted from your refund are a small usage fee, any non-Ford aftermarket items, factory rebates and negative equity.
How much will you have to pay our law firm? NOTHING!!! All of our attorney's fees and costs are paid for by Ford Motor Company so there is never a cost to you.
If you Did Not Opt Out, you are part of the class action settlement.

A settlement was reached, however, the Plaintiffs appealed and the case has been overturned on appeal. The case has been remanded (sent back down to the lower court) to be reevaluated. This means that the case is still in limbo, but we have been assisting with arbitration cases since September 2017 with a 100% success rate.
With the help of California Lemon Law Group I took on Ford Motor Company and WON!!!!

I was a bit concerned with the distance as I live in Riverside. However Debbie was there via email or phone whenever I had a question… or even needed help renting a car!!!

My 2014 Ford Focus was 2 years old with over 52,000 miles and I got full compensation!

Thank you again Debbie for a seamless experience!
Julie W., Riverside, CA
Originally posted on Yelp
I can't say enough good things about Debbie and her team. She was so easy and pleasant to work with, and we were able to do everything without ever visiting the office. She went above and beyond to increase the amount required under lemon law to get us more money for our settlement. I hope I never need a lemon law attorney again but if I do I won't hesitate to return to California Lemon Law Group.
Miss J., Los Angeles, CA
Originally posted on Yelp
Ford Fiesta DPS6 Clutch Problems
Since Ford's introduction of the DPS6 transmission system, Ford has developed at least six different generations of "revised clutches" with each new set supposedly being better than the last.
If you are a California resident, purchased your Fiesta or Focus from a California dealership, and your clutches have been replaced at least twice,  give us a call to see if we can assist you. We may be able to help you settle your case with Ford even if you are part of the class action settlement!
2014 Ford Focus problems from 3K mi; clutch replaced @ 9K & 23K. Dealership constantly downplayed issues and flat out lied. Never imagined that I could get any resolution but Debbie Horowitz and the CA Lemon Law team exceeded ALL expectations. Full repurchase w/in 4 months.

Debbie communicates clear directions, provides personal email traffic in a timely manner, troubleshooting on a moments notice…not a problem…Debbie and her staff are there with you the entire journey. PAINLESS, STRESS-FREE, PROFESSIONAL SERVICE. I live nowhere near the firm…not a problem. I had unique issues due to my military service…not a problem. The best, most rewarding, decision you will EVER make is in choosing Debbie & team to fight your LEMON battles.

If you have a LEMON this is your team…choose DEBBIE HOROWITZ & team—you will be headed to the BANK:) Thank you Debbie, you are a life saver!
Laurie I., Vacaville, CA
Originally posted on Yelp.
Call us toll free at 1-855-595-3666
for a FREE Lemon Law case evaluation
Our services are ALWAYS FREE to the consumer!