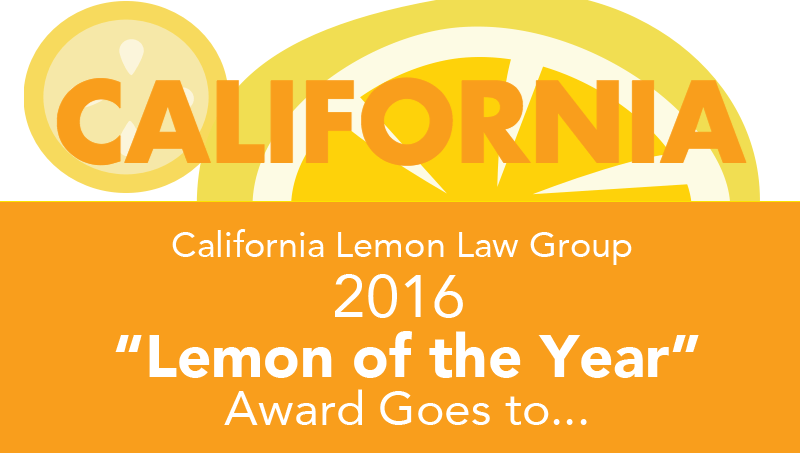 Each year The California Lemon Law Group hears numerous complaints from consumers wondering whether or not their vehicle is a "lemon."  Often times there is a specific make and model that will top our list in regards to the sheer volume of incoming calls and successfully settled cases. This year, as with 2015, the 2012-2016 Ford Focus and the 2011-2016 Ford Fiesta topped our list.
The California Lemon Law recognizes that if you purchased a new vehicle or a used one with an original factory warranty still in force, you have the right to rely on its dependability and safety.
In order for us to obtain a full lemon law repurchase for you pursuant to the Song-Beverly Consumer Warranty Act, California's Lemon Law, we have to prove 3 things:
Your vehicle was taken to a factory authorized dealership for a serious defect four or more times (for the exact SAME problem); and
The defect cannot be repaired under the original factory warranty after four or more repair visits; and
The defect substantially impairs your use, value, or safety. The substantial impairment requirement means that your vehicle's defect needs to be serious enough that it severely impacted your use, value, or safety. If you are putting more than 20,000 miles on your vehicle per year, this makes it extremely difficult to prove that your use, value, or safety have been substantially impaired.
2012-2016 FORD FOCUS and 2011-2016 FORD FIESTA
Of the hundreds of lemon law cases filed by The California Lemon Law Group in 2016, Ford's 2012-2016 Focus and 2011-2016 Fiesta topped our list of most active cases again. All of our cases involving Ford have resulted in successful settlements for our clients. And things don't look much better for the 2017 Ford Focus/Fiesta. The 2017 Focus and Fiesta come equipped with the exact same problem-plagued dual-clutch DPS6 "automatic" transmission system as previous models.
Owners of the 2011–2016 Ford Fiesta and the 2012-2016 Ford Focus turned out to be prime candidates for Lemon Law claims this year with vehicle problems that ranged from shuddering, hesitating, lacking power, stalling, activation of the "Transmission Overheat" warning light, activation of the "Check Engine" warning light, grinding, jerking, failure to move at all, and failure to start, to name a few.
If you think your 2012-2016 Ford Focus or 2011-2016 Ford Fiesta is a lemon, please feel free to fax or email us a copy of your purchase contract or lease agreement (copied onto 3 regular sized sheets of paper, top, middle and bottom), a copy of your current registration, and copies of  all of your repair invoices from the dealership. We will evaluate your case the same day and let you know if we can help you.
If you have any questions regarding your particular situation, and you reside in the State of California, please call us toll free at
1-855-595-3666.
Our services are ALWAYS FREE to the consumer!
Related Articles: