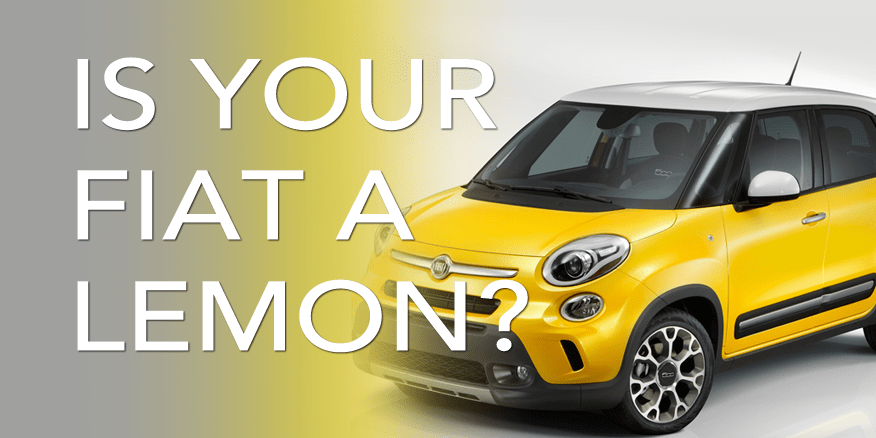 In its 2014 Reliability Survey, Consumer Reports named the Fiat 500 L the least reliable compact car and least reliable car overall.
The Fiat 500L is currently the least reliable new car, with a predicted reliability score that is 219 percent worse than average. Looked at another way, the 500L has about 16 times the problem rate of the most reliable car… Consumer Reports
In addition, the Fiat was given the worst possible J.D. Power quality scores in 2014. Fiat came in dead last by a significant margin. The company's cars tallied 206 problems per 100 vehicles compared to a national average of 116 per 100. Even Jeep, the survey's second-to-last finisher, had 146 per 100.
Fiat Chrysler Automobile's brands scored poorly over-all ­– Jeep was the second worst brand, with 146 issues.
We've been very successful in litigating lemon law cases involving Fiat model years 2013—2015. Consumer complaints range from the car completely shutting down without any warning that it's about to happen, transmission problems, airbag and check engine lights that keep coming on, leaking fluids… and the list goes on.
Fiat, an acronym for Fabbrica Italiana Automobili Torino, is an Italian automaker and major player in the European marketplace. With a company whose portfolio includes the Ferrari, Maserati, Alfa Romeo, as well as a majority stake in Chrysler Group LLC, one would think that they wouldn't be manufacturing lemons.
A Yugo by Any Other Name
Remember the Yugo? That was dubbed the worst car in the history of automobiles. The Yugo was manufactured in Serbia by automaker Zastava up until 2008 when the last one rolled off the assembly line. However, shortly before the completion of the last Yugo, Fiat purchased Zastava and its factory, and began making Fiats. The name of the company was changed to Fiat Automobili Srbija (or Fiat Automobiles Serbia). Perhaps this explains why the Fiat is such a flawed vehicle.
With all of the new technology being used in our automobiles, most consumers understand that there are bound to be some software glitches that can be easily resolved after one trip to the dealer. As annoying and time consuming as that may be, they are willing to accept a minor software issue. However, what consumers cannot and should not accept is an automobile dealer or manufacturer denying a well documented problem for a known mechanical issue. Consumers should not be required to return to the dealership time and time again for the same problem.
If your Fiat has been taken to the dealership four or more times for the same problem and the repairs are being covered by the manufacturer's warranty, and that problem substantially impairs your use, value, or safety, you may be entitled to relief under the California lemon law.
If you think your Fiat 500, Fiat 500 Abarth, Fiat Sport or other Fiat 500 model is a lemon, give us a call and save yourself from the stress of battling with the manufacturer on your own. Our toll free number is (855) 595-3666 and we are here to help you.