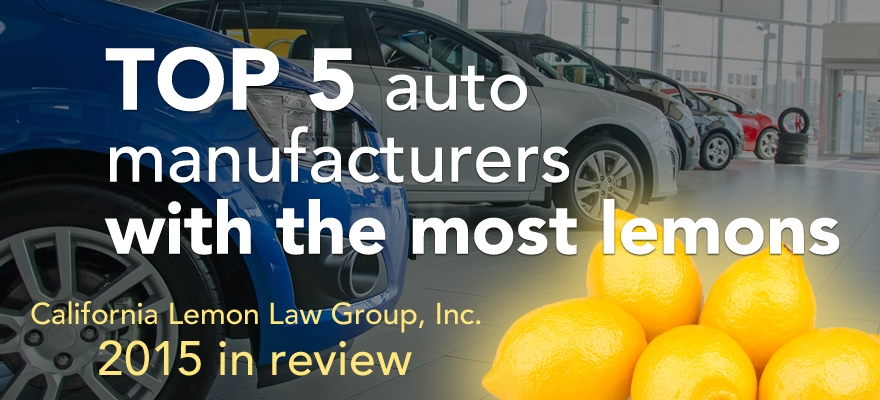 Each year, thousands of consumers register complaints with the National Highway Traffic Safety Administration (NHTSA), the BBB, and automobile manufacturers about their defective vehicles. Some consumers will attempt to seek a remedy to the problem on their own, thinking that they cannot afford to hire an attorney, or that going through the BBB arbitration process is the best course of action. Neither of which holds true.
The California Lemon Law Group represents clients at absolutely no cost to the client and our billed fees and costs are lower than those at most other lemon law firms, which means that our clients receive the greatest settlements.
As for the arbitration clause buried somewhere on the backside of the purchase contract you signed at the time of purchase, the California Lemon Law does not require the consumer to participate in arbitration that may be offered by the vehicle manufacturer in order to pursue a Lemon Law claim. Furthermore, the consumer is not bound by the decision of the arbitrator(s), unless the consumer agrees to be bound.
The California Lemon Law recognizes that if you purchased a new vehicle or a used one with a factory warranty still in force, you have the right to rely on its dependability and safety.
Manufacturers don't always want to fulfill their obligations under the California Lemon Law, so California lawmakers added a special section to the Tanner Consumer Protection Act, that provides guidelines for a reasonable legal "presumption" that the manufacturer has had enough time or opportunities to repair your vehicle. They have to actually repair the vehicle, not just mask over the problem with adjustments or a reprogramming of the computer system(s).
Of the thousands of Lemon Law cases filed in 2015, our Top 5 at The California Lemon Law Group offices were (and in this order):
1. and 2. FORD FOCUS and FORD FIESTA
Ford actually gets the Top 2 places on our list in 2015 because the Focus and Fiesta raced to the top of the list and tied for the most Lemon Law cases in 2015. We have successfully obtained full repurchases on 100 Ford Focus and Ford Fiesta vehicles in 2015 and we still have roughly 65 more Focus and Fiesta cases still in progress. All of our cases involving Ford have resulted in very successful settlements for our clients.
Owners of the 2011–2015 Ford Fiesta and the 2012-2015 Ford Focus turned out to be prime candidates for Lemon Law cases in 2015 with vehicle problems that ranged from shuddering, hesitating, lacking power, stalling, activation of the "Transmission Overheat" warning light, activation of the "Check Engine" warning light, grinding, jerking, etc.
Related Articles:
3. JEEP CHEROKEE
The 2015 Jeep Cherokee has the most overall complaints, and the 2014 Jeep Cherokee has the most transmission system problems.
2013 to 2015 Jeeps are known for having the following problems:
hard shifts (if it shifts at all),
transmission shifts on its own, or slips,
complete failures in which the transmission shifts into neutral while driving,
lunging,
unexpected disengagement of the transmission,
repeated activation of the Transmission Failure and Check Engine warning lights.
The complaints involving the transmission system problems with the Jeep Cherokee are similar to the ones we hear about the Ford Focus and Ford Fiesta.
4. NISSAN PATHFINDER
These lemon law cases involve Nissan's continuously variable transmission (CVT). Consumers are experiencing vehicle problems ranging from noises that should not be coming from a CVT, to engine stalls, to what became known as the "Nissan Shudder."
5. FIAT 500
We've been very successful in litigating lemon law cases involving Fiat model years 2013—2015. Consumer complaints range from the car completely shutting down without any warning that it's about to happen, transmission problems, airbag problems, fluid leaks, and check engine lights that keep coming on.
Related Article:
Is Your Fiat 500 a Lemon?
A Look Ahead
Ford Focus and Ford Fiesta lemon lawsuits may continue to be our most active cases again next year, too. However, the luxurious Mercedes-Benz may join the ranks of our Top 5 for next year. We're starting to see more Mercedes-Benz lemons for problems such as:
doors, windows and alarms self-activating or malfunctioning
engine stalling or not starting
transmission vibration and/or hesitation
illumination of the check engine light or other dash lights
If you have had multiple warranty repair attempts for the same issue with your Mercedes, or your vehicle has had an excessive number of days in the repair shop, you may have a Mercedes-Benz vehicle that qualifies for coverage under California's Lemon Law.
To find out whether or not you can seek remedies under the California Lemon Law, give us a call at 1-855-595-3666. Remember, our services are always free to the consumer!