Last Updated: September 2019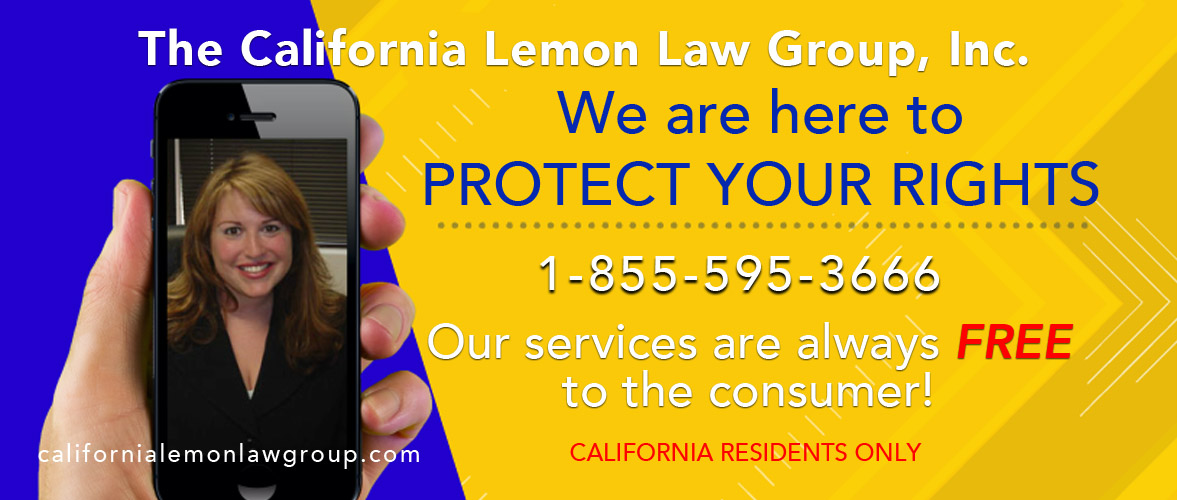 The California Lemon Law, or the Song-Beverly Consumer Warranty Act, applies to three types of vehicles:
New vehicles that are still covered by their original factory warranty, including the bumper to bumper warranty and the powertrain/drivetrain warranty.
Certified Pre-Owned vehicles that are either still covered by their original factory warranty or they have a factory warranty that has been extended through the certification process.
Used vehicles that are still covered by their original factory warranty, including the bumper to bumper warranty and the powertrain/drivetrain warranty.
We are here to protect your rights; Not theirs.
At times, lemon law cases require an attorney to appear at a Case Management Conference, Legal Inspection, Deposition, Mediation, Settlement Conference, and even in rare cases, for trial. Because of this, The California Lemon Law Group works only with California residents. It is in your best interest to hire a lemon law attorney in your state  so that you can be assured that your attorney will know your state's law and attend these important events on your behalf.
The California Lemon Law Group is pleased to offer our services to all residents of California. If you do not live near one of our main locations, we will come to you at no cost to you. We service the entire state of California and we have litigated cases in all of the state and federal courts in California.
We can also tell you up front who will be representing the defendant in your case. Automobile manufacturers rarely change law firms so most of them have used the same attorneys for many years. If a lemon law attorney does not know who will represent the automobile manufacturer, or does not have a longstanding relationship with the other side's law firm, they may not be able to get you the best possible settlement. Our firm has been specializing solely in lemon law cases for the last fourteen years. We know their law firms and we have excellent working relationships with them. This helps us to ensure the best settlements for our clients.
2018 Lemon Law Cases in Review
The following vehicles (new, used, or leased) had the greatest number of cases filed at The California Lemon Law Group in 2018. To date, we have had a 100% success rate. In some cases, our clients received thousands more than they had thought possible. In all cases, they received more in compensation — and a lot less stress —  than if they had taken on the automobile dealerships and manufacturers on their own.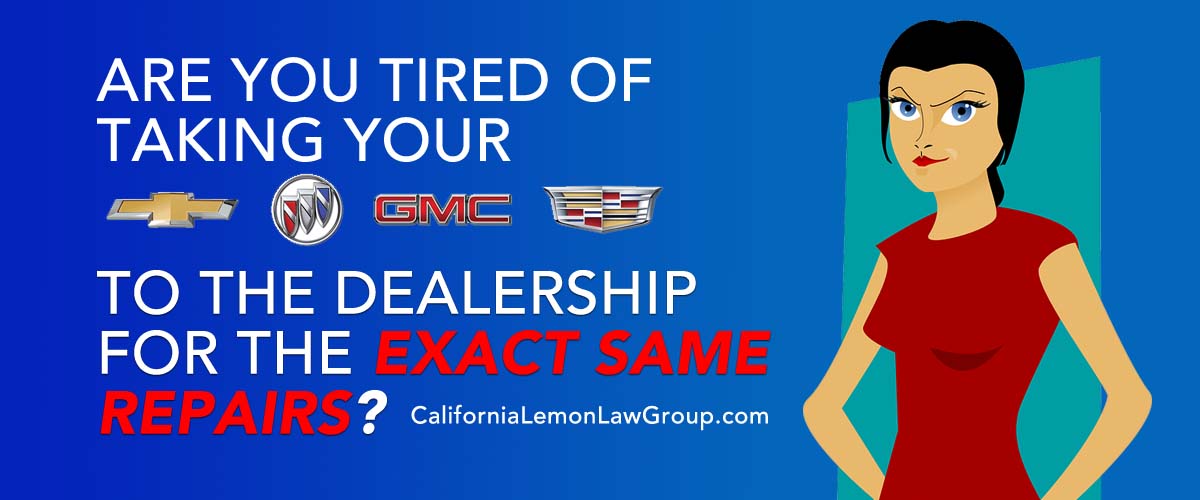 2016 – 2017 Chrysler 200
Most of the complaints have been about the 2015 Chrysler 200, however, we are seeing much of the same problems with model years 2016 and 2017. The worst complaints have been in regards to the transmission and engine systems:
Engine dies while driving; or
Engine stalls or shuts off while driving
Lemon Law Claims on Chevy Spark & Chevy Cruze
Owners of the Chevy Spark, model years 2014-2016, and Chevy Cruze, model years 2011-2014, are experiencing much the same transmission problems as owners of other makes and models with the CVT transmission. Common Chevy Spark and Cruze complaints include, but are not limited to:
Hesitation when attempting to accelerate from a stopped position
Check engine light comes on
Engine stalls out
Engine shakes
Rough start or hard shift and sudden acceleration
Engine shuts off while in park
Dodge Challenger
Recurring transmission system problems such as sudden lunging, stalling, and vibrating are just a few of the complaints we have heard from Dodge owners. Some of the Dodge Dart, Charger, Challenger, Journey, Durango, Ram, and Grand Caravans may have similar problems that cause vehicle owners to make repeat trips to the Dodge dealership for the exact same problem(s).
With the 2017 Dodge Challenger, some owners have taken their car in for service multiple times complaining that the vehicle pulls to the right and shakes at freeway speeds. Dodge's 2017 Challenger can also have drivetrain problems.
Tough Muscle Cars and Trucks can Also be Lemons
Ford Mustang owners have suffered through multiple trips to the dealership, entire transmission system replacements, new clutches and extended days (30 or more) of having their car in the dealership waiting for parts. Complaints about the 2011 – 2015 Ford Mustang MT-82 transmission range from clutch problems to the engine shutting down while driving to a sudden inability to shift gears, and everything in between.
The main complaint we are hearing about the 2017 Ford F-150 is that it shifts too hard, or gets stuck in gear. Other serious problems with the F-150 transmission include:
Hard downshift; skipping gears
Engine suddenly stalls or shuts down
Transmission slipping
Engine vibration
Sudden loss of brakes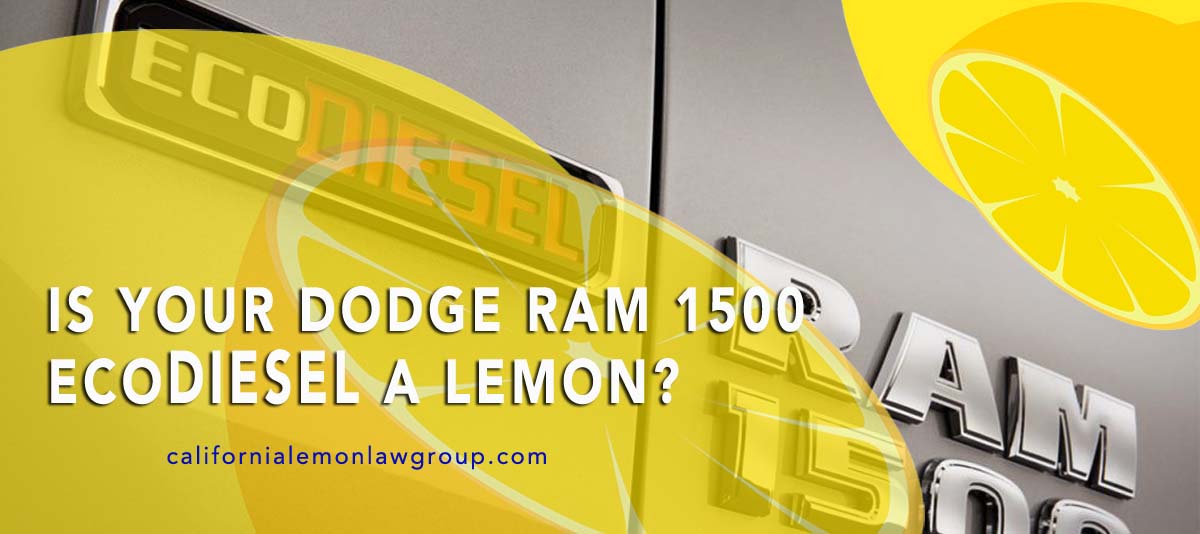 Dodge Ram EcoDiesel 1500
Despite what your dealership may be telling you when you bring your Dodge Ram EcoDiesel 1500 in for service, it is not that you are using bad fuel. It is not that you are driving the truck improperly. It is a defective truck and could actually be a lemon.
Problems with the EcoDiesel That Could Make it a Lemon
Some of the problems with the EcoDiesel that we are currently seeking remedies for under the California Lemon Law are:
Severe loss of power
Check Electronic Throttle Control warning
Engine vibration
Engine failure at low miles due to cam gear slippage
By reviewing your repair documents, interviewing you about the problems you have been having with your new, used or leased vehicle, we will be able to tell you if your particular situation meets the criteria for a Lemon Law case in the state of California.
If you have any questions regarding your particular situation, and you 

reside in the State of California

, please call us toll free at
1-855-595-3666
Our services are always free to the consumer!