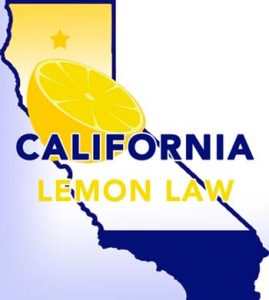 The California Lemon Law Group, Inc. is pleased to offer our services to all residents of California.
If you do not live near one of our office locations, we will come to you at no cost to you. We service the entire state of California and have litigated cases in all of the state and federal courts in California.
We can evaluate your case by fax or e-mail, so our office location will not be a problem no matter where you live. If you prefer to meet in person, that can be arranged at no cost to you.
Call Toll Free: 855-59-LEMON ( 855-595-3666 )
The California Lemon Law Group, Inc. practices in the following cities:
We are proud to also practice in the following counties:
| | | | | |
| --- | --- | --- | --- | --- |
| Alameda County | | Madera County | | San Joaquin |
| Alpine County | | Marin County | | San Luis Obispo |
| Amador County | | Mariposa County | | San Mateo County |
| Butte County | | Mendocino County | | Santa Barbara County |
| Calaveras County | | Merced County | | Santa Clara County |
| Colusa County | | Modoc County | | Santa Cruz |
| Contra Costa County | | Mono County | | Shasta County |
| Del Norte County | | Monterey County | | Sierra County |
| El Dorado County | | Napa County | | Siskiyou County |
| Fresno County | | Nevada County | | Solano County |
| Glenn County | | Orange County | | Sonoma County |
| Humboldt County | | Placer County | | Stanislaus County |
| Imperial County | | Plumas County | | Sutter County |
| Inyo County | | Riverside County | | Tehama County |
| Kern County | | Sacramento County | | Trinity County |
| Kings County | | San Benito County | | Tulare County |
| Lake County | | San Bernardino County | | Tulomne County |
| Lassen County | | San Diego County | | Ventura County |
| Los Angeles County | | San Francisco County | | Yolo/Yuba County |