The California Lemon Law Group, Inc., represents all Riverside, Corona, Hemet, Temecula, Banning, Beaumont, Blythe, Lake Elsinore, Menifee, Moreno Valley, Murrieta, Norco, San Jacinto, and Riverside County residents. Our lemon law specialist can meet with prospective or current clients in our Temecula or Riverside offices anytime.
The California Lemon Law Group, Inc., is a law firm dedicated to the enforcement of the California Lemon Law, also known as the Song-Beverly Consumer Warranty Act, to protect the rights of California's consumers.  Our lead lemon law attorney is well versed in the application and enforcement of the California Lemon Law in both California state and federal courts. She has successfully litigated and settled more than 10,000 lemon law cases in California — at NO COSTS to the consumer.
What Types of  Vehicle Defects Make a Vehicle a "Lemon?"
Examples of lemon law cases we've successfully settled include safety-related issues such as:
Transmission problems.
Steering components that break suddenly causing partial or complete loss of vehicle control.
Problems with fuel system components, particularly in their susceptibility to crash damage, that result in leakage of fuel and possibly cause vehicle fires.
Accelerator controls that may break or stick.
Critical vehicle components that break, fall apart, or separate from the vehicle, causing potential loss of vehicle control or injury to persons inside or outside the vehicle.
Wiring system problems that result in a fire or loss of lighting.
What Evidence Do You Need to Prove Your Vehicle is a Lemon?
The best evidence in making a lemon law claim in California is the repair order and subsequent repair invoice  provided to you by the repairing dealership.
When you take your car into the dealership for a warranty repair, make sure that your service advisor accurately records your complaints on the repair order and make sure that you do not leave the dealership without a copy of the repair order. Then, when you pick your vehicle up from the dealership after the repairs have been performed, make sure that the repair invoice actually states what was repaired on your vehicle. Do not sign the repair order or invoice until you have read it and you have made sure that what is written on the repair invoice actually matches with what your service advisor told you. Never leave the dealership without a final closed out copy of your repair invoice.
Remember to keep all of your repair orders and invoices so that in the event you want to file a lemon law claim, you have all of the evidence in your possession.
Do You Need to Hire a Lemon Law Attorney?
If you want to be fairly represented in court and receive the maximum settlement allowed under the law, then you need to hire an attorney specializing in California Lemon Law. Furthermore, under the California Lemon Law, the vehicle manufacturer pays for your attorney fees! You do not have to pay anything!
If you live in Temecula, Riverside, or Riverside County area and you believe that you have a lemon vehicle, please contact us today so that we can begin your lemon law case right away.
With the help of California Lemon Law Group I took on Ford Motor Company and WON!!!!

I was a bit concerned with the distance as I live in Riverside. However Debbie was there via email or phone whenever I had a question… or even needed help renting a car!!!

Thank you again Debbie for a seamless experience!
– Julie W., Riverside, CA (Originally posted on Yelp)
This firm is professional and efficient. My case was closed in less than a year and went smoothly from start to finish. They have excellent communication and keep you updated on the progress of your case. I couldn't have found a better attorney to go through for my lemon buyback!
– Brianna H., Temecula, CA (Originally posted on Yelp)
The California Lemon Law Group, Inc.
Turner Riverwalk Center
11801 Pierce Street
Suite 200
Riverside, California 92505
Call us toll free at 1-855-595-3666
By appointment only.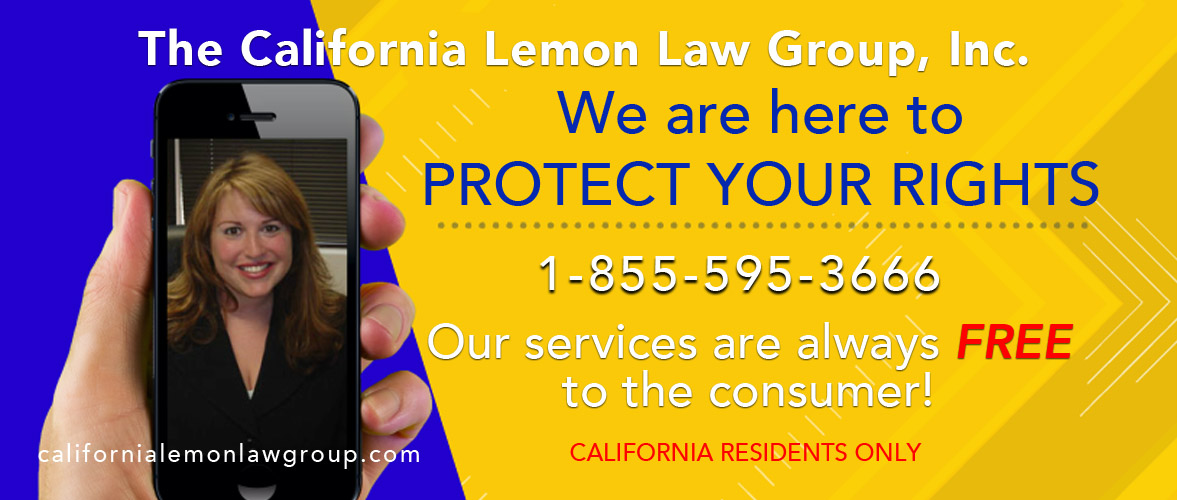 Call us toll free at 1-855-595-3666
for a free Lemon Law case evaluation