Last Updated: July 2021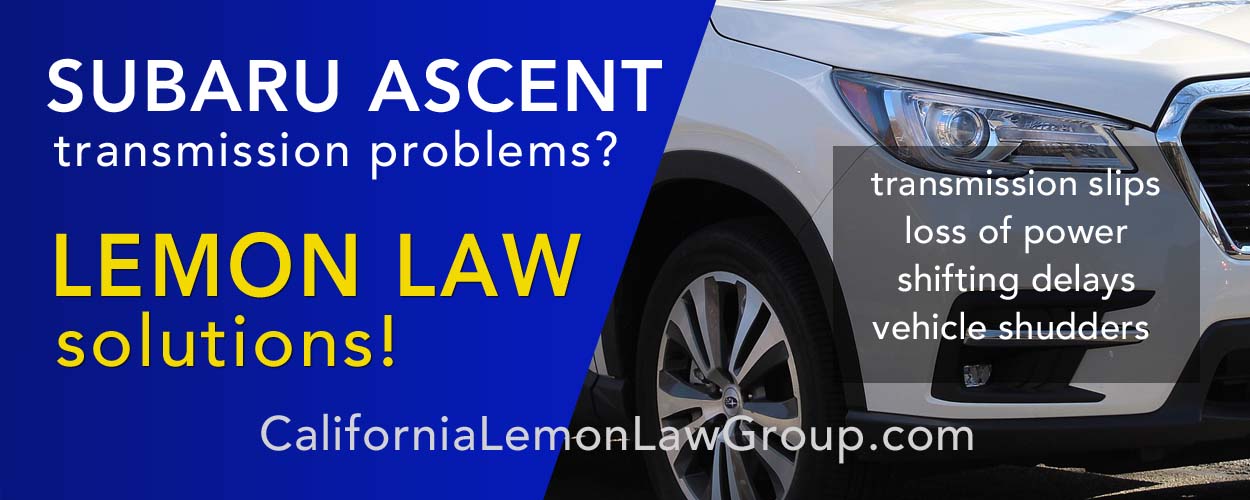 What's Wrong with the Subaru Ascent's Transmission?
Subaru's SUV, the Ascent, had transmission and engine problems in their all-new 2019 model. As a result, Subaru recalled more than 76,000 of its Ascent over a possible transmission defect. If your vehicle does have an open recall, it is important to keep a record of what was repaired in case the problem returns, and how often you have the exact same problem. Keeping detailed records will also help determine whether or not the defect was actually repaired in the recall.
In 2020, the Subaru Ascent made Consumer Reports Top 10 list of the Least Reliable Cars, and they lost their recommendation due to risk of problems. Despite Subaru's recalls and software updates to deal with some of the problems, for many Ascent owners the transmission problems in 2019 are much the same for owners of the 2020 and 2021 model years.
Subaru Ascent Transmission Problems with Possible Lemon Law Solutions
Continuous Variable Transmission (CVT) slips causing the vehicle to shudder, jerk, hesitate or lurch.
Hard shift or shifting delays.
Loss of power while driving.
A Potential Class Action Lawsuit
ClassAction.org reported that attorneys are investigating whether a class action lawsuit can be filed due to the problems with the Ascent transmission. As of March 3, 2021 attorneys working with ClassAction.org have spoken to enough drivers to close their investigation. As of this post, it's unclear whether or not a class action will be filed.
Should You Join a Class Action Lawsuit Against Subaru?
A class action lawsuit can offer benefits, and may be your only option if you have a lemon vehicle and do not live in a state with Lemon Law remedies.* But your participation can also come at a cost to you.
If you do receive a notice regarding a class action against Subaru over the transmission, AND ARE A CALIFORNIA RESIDENT, consider the following BEFORE  you take any action:
The large settlements often go to the attorneys and the lead Plaintiff or Plaintiffs.
Class action lawsuits take a long time to settle because of the complex procedures involved.
Filing a lemon law case against an automobile manufacturer instead of joining a class action means that you are not stuck with having to wait a few years for a settlement, or settle for a few hundred dollars, or get coupons, rebates, or a small amount of money "towards the purchase" of a new car that may have the same transmission problems.
Because these laws are complex, you should consult with us before you take action on your own — either against the dealer you purchased your vehicle from or the manufacturer — so that we can best advise you of your rights under the particular circumstances of your case. Over the years, The California Lemon Law Group has had a 100% success rate settling claims in favor of our clients.
If you are experiencing transmission problems with your Subaru, as tempting as it may be, you should not post your grievances on a social media site, or an automotive forum, chat room, or anywhere on the Internet. In general, we do not recommend posting anything that an automobile manufacturer's attorney can find because they can try to use these posts against the consumer in a deposition, mediation, or even at trial. In addition, it is never a good idea to complain to dealership personnel that you think your vehicle is a lemon because the dealership may be less likely to try to find a problem and repair it, thereby making our job more difficult later on.
The California Lemon Law Group works only with California residents.
If you own a 2019-2021 Subaru Ascent and experiencing transmission slippage, jerking, shuddering, or other transmission issues — and have taken your vehicle to an authorized Subaru dealership for repair —  AT LEAST 4 TIMES FOR THE EXACT SAME PROBLEM — contact us!
Still not sure whether your new, used, or leased vehicle can be considered a lemon under the California Lemon Law?
Give us a call at 1-855-595-3666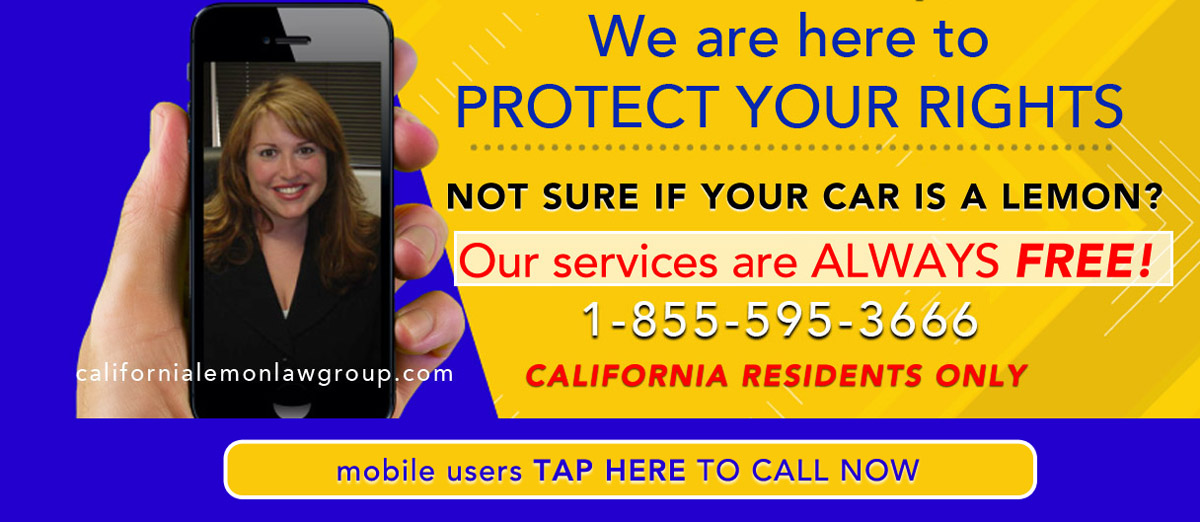 *California residents are fortunate to have one of the strongest and most pro-consumer lemon laws in the entire country.