Last Updated: October 2021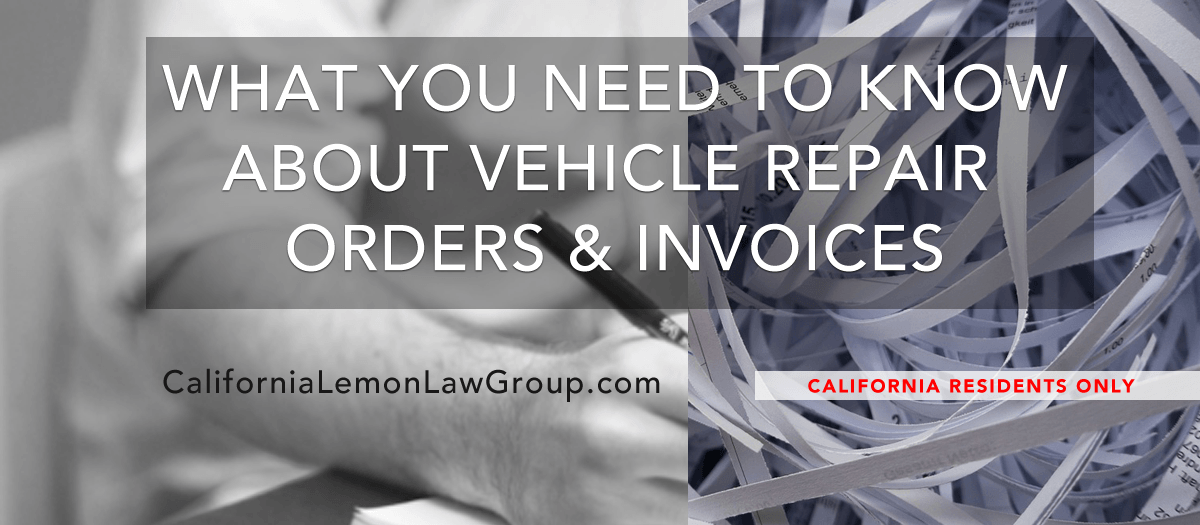 Many people think that if they take their new vehicle to their dealership for repair work that is performed under the warranty there is no reason to keep copies of the repair documents. The repair gets done, but shortly thereafter, you're back at the dealership due to the same problem. After repeated trips to the dealership for the exact same repair, you now strongly suspect that your vehicle is a lemon and you want to file a lemon law case.
What evidence do you have as proof that your vehicle is a lemon?
Are you counting on the dealership to have an accurate record of every time you have brought your vehicle in, and exactly what measures they took in an attempt to remedy the problem? Did the service advisor accurately record your complaint on the repair order?
Under the California lemon law, if you have brought your vehicle to the dealership four or more times for the exact same problem, it was repaired under the original factory warranty, the problem substantially impairs your use, value, and/or safety, and the dealership cannot repair the problem, you may have a lemon. If your vehicle is a lemon, the manufacturer is required to either repurchase it from you or replace it for you.
There is another component to the California lemon law that most people are not aware of. If your vehicle spends more than 30 days at the dealership for a single warranty repair during the first 18 months and 18,000 miles of use, and you have not agreed in writing to allow the dealership to keep your vehicle for that long, you may have a lemon law claim.
The best evidence in making a lemon law claim in California is the repair order and subsequent repair invoice  provided to you by the repairing dealership.
When you take your car into the dealership for a warranty repair, make sure that your service advisor accurately records your complaints on the repair order and make sure that you do not leave the dealership without a copy of the repair order. Then, when you pick your vehicle up from the dealership after the repairs have been performed, make sure that the repair invoice actually states what was repaired on your vehicle. Do not sign the repair order or invoice until you have read it and you have made sure that what is written on the repair invoice actually matches with what your service advisor told you. Never leave the dealership without a final closed out copy of your repair invoice.
Remember to keep all of your repair orders and invoices so that in the event you want to file a lemon law claim, you have all of the evidence in your possession.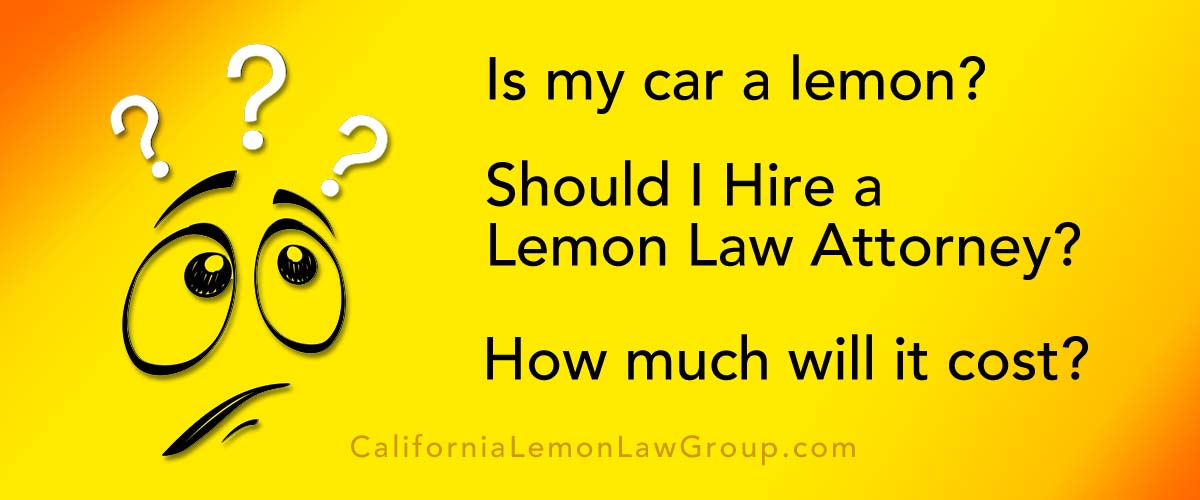 Do You Need to Hire a Lemon Law Attorney?
If you want to be fairly represented in court and receive the maximum settlement allowed under the law, then you need to hire an attorney specializing in California Lemon Law. Furthermore, under the California Lemon Law, the vehicle manufacturer pays for your attorney fees! You do not have to pay anything!
The California legislature explicitly included a provision in the lemon law (California Civil Code Section 1794(d)) that requires the manufacturer to pay a prevailing car buyer's attorney's fees. Thus, if you have a solid case you will be able to hire a lemon law attorney for "no money down," and no fees or costs due upon settlement. That being said, there is no reason to turn your lemon law case into a "Do-it-Yourself" project when you can hire us to represent you — for absolutely Free.
Other reasons not to try to take on the automobile manufacturers without a skilled lemon law attorney:
1. The dealership may work with you and they may even tell you that they are "buying your car back," when it's really a dealer assisted trade-in that does not give you all of the benefits of a lemon law repurchase.
2. If you do try to go through the BBB's Autoline Dispute Resolution Program, you may think that you are getting a fair and unbiased neutral person to hear your case. Unfortunately, it seems that the unbiased neutral mediators are actually paid for by the automobile manufacturers. We have had clients come to us for assistance after an unfair result at the BBB's hearing and we have gotten them a much better result.
3. Sometimes, even though your vehicle clearly qualifies for a lemon law repurchase, the automobile manufacturer may deny your request and you will be told that your vehicle does not qualify for a repurchase. This has happened too many times to count. Most of these situations have resulted in a full repurchase for our clients.
4. Occasionally, an automobile manufacturer may agree to buy your vehicle back from you, but the terms of the buy back may not conform to the law. For example, under the law, you are entitled to all of your out of pocket rental car fees, and a mileage offset placed at the very first time you presented your vehicle for a repair of the defect for which it is being repurchased.
5. We have actually had cases where the automobile manufacturer told our client that they had to accept a vehicle replacement and the manufacturer refused to agree to a repurchase. We sued the automobile manufacturer and obtained a civil penalty for our client in one such case.
6. Even if your vehicle's defects do not meet the burden of proof for a repurchase, we can still possibly obtain a settlement of a few thousand dollars for you. The automobile manufacturers will never offer this unless you have an attorney.