Last Updated: November 2021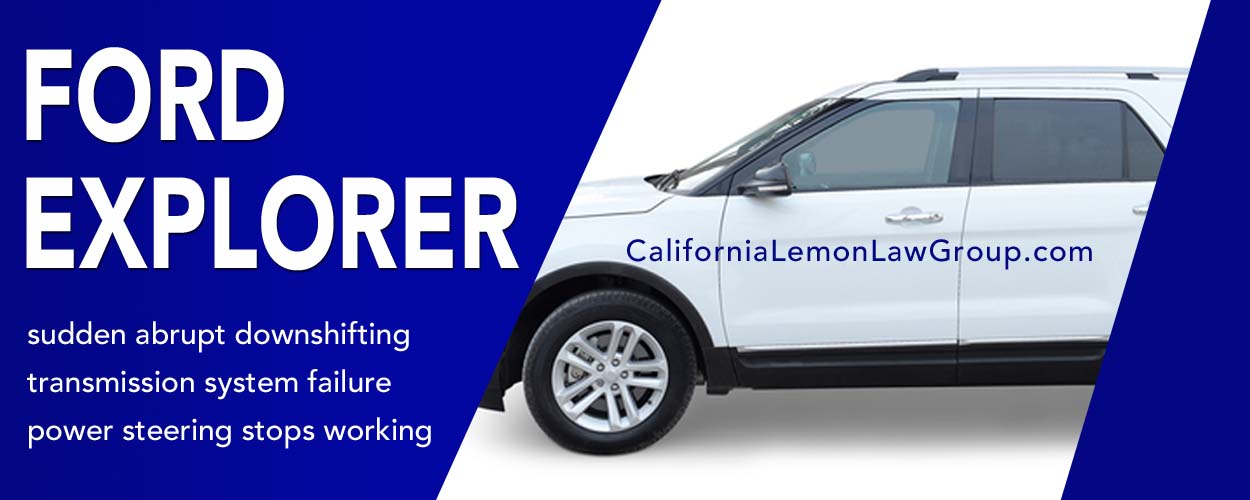 According to the National Highway Traffic Safety Administration (NHTSA), as of today's date, there are currently :
439 complaints for the 2017 Ford Explorer
95 complaints for the 2018 Ford Explorer
20 complaints for the 2019 Ford Explorer
49 complaints for the 2020 Ford Explorer
Not all of the above listed complaints about the Ford Explorer mean that the vehicle is a lemon. However, all of our lemon law cases do have a few things in common.
Some of the problems with the Ford Explorer that most likely would meet the criteria for a lemon law case include, but are not limited to:
strong jerking motion when slowing down or coming to a stop,
sudden abrupt downshifting,
transmission system failure,
power steering stops working while driving,
any problem that rises to the level of a "substantial impairment" under the law.
It was reported in the Detroit Free Press that Ford Motor Co. shipped thousands of 2020 Ford Explorers and Lincoln Aviators as workers were attempting to identify and fix a series of complicated engine problems. The 2021 Ford Explorer has also been reported to suffer from engine system problems.
To deal with these problems, Ford has issued a number of safety recalls over the last few years. Recalls are extremely common and they are issued for a variety of reasons. Typically, a vehicle is recalled for a serious problem that should be dealt with immediately as the problem can result in personal injuries. You can visit the NHTSA website and enter your Vehicle Identification Number (VIN) to find out if your vehicle is affected by a safety recall.
If your vehicle does have an open recall, it is important to keep a record of what was repaired in case the problem returns, and how often you have the exact same problem. Keeping detailed records will also help determine whether or not the defect was actually repaired in the recall.
The most important evidence in a lemon law case is the repair orders and repair invoices that a consumer is given by the repairing dealership so please keep all of your paperwork in a safe place.
Lemon Laws and Warranty Laws are complex and you should consult with us before you take action on your own — either against the dealership where you purchased your vehicle or the automobile manufacturer — so that we can best advise you of your rights under the particular circumstances of your case.
Complicated laws and teams of attorneys representing the automobile manufacturers do not mean that you are stuck with a lemon. As California Lemon Law experts, we are well versed in all of the ways automobile manufacturers try to get out of paying the compensation that you are legally entitled to.
If you own a Ford Explorer and think it might be a lemon, contact us before you take any action on your own. We may be able to negotiate a better deal than you can negotiate for yourself, but only BEFORE the automobile manufacturer agrees to buy your vehicle back from you. Once you have been offered a buyback by an automobile manufacturer, we cannot step in any longer.
We do not charge our clients for our services.
You do not pay for our travel, lodging, office supplies, postage, assistance from private investigators, or automotive expert inspections on your vehicle. If we need to hire an expert witness, we pay for their fees.
Under the California Lemon Law, we recover 100% of our attorney's fees and costs from the defendant. The automobile manufacturer is required to pay all reasonable attorney's fees and costs to Plaintiff's attorney if that attorney wins the case.
Do not sign a retainer agreement that gives your attorney YOUR money!
Still not sure whether your new, used, or leased vehicle can be considered a lemon under the California Lemon Law?
Give us a call at 1-855-595-3666