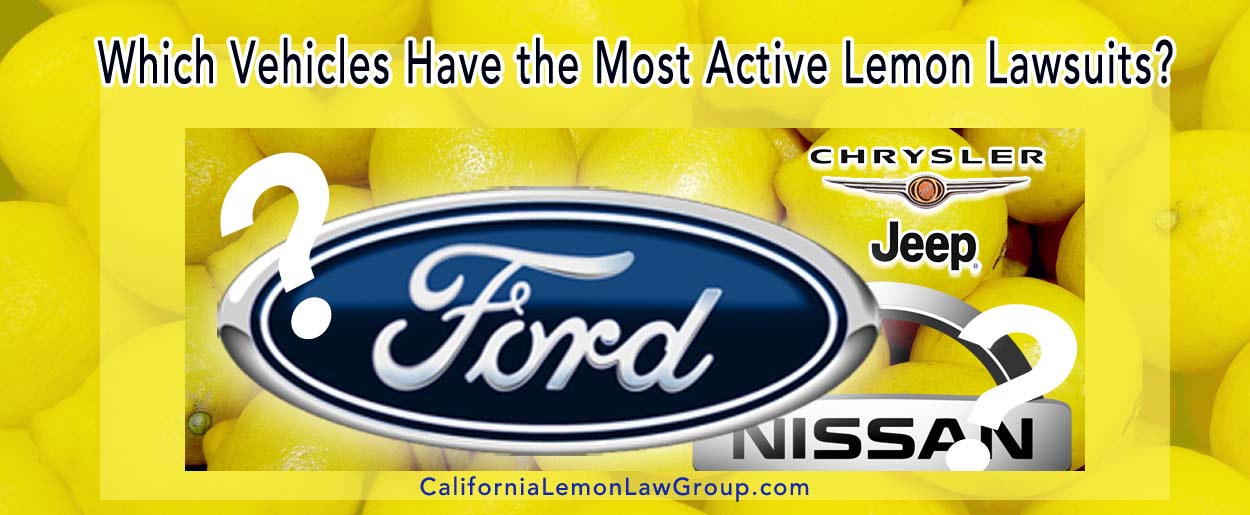 The California Lemon Law Group successfully resolves thousands of cases every year for new and used vehicle owners. While there are various reasons for filing a lemon law case, the top consumer complaints have been with the Ford, Nissan, and Jeep/Chrysler transmission systems.
Ford Fiesta and Ford Focus
2016 – 2020 Ford Fiesta and Ford Focus. If you have taken your vehicle into a Ford authorized repair facility at least four times for the same transmission system problems, we can most likely get Ford to buy yours back! We have been getting Ford to buy these vehicles back based on both California Lemon Law claims and Auto Fraud Claims for selling our clients "automatic" vehicles that actually have manual transmission systems!
Transmission system problems have included shuddering, hesitating, lacking power, stalling, activation of the "Transmission Overheat" warning light, activation of the "Check Engine" warning light, grinding, jerking, and other transmission problems. The Ford Focus and Ford Fiesta Lemon lawsuits continue to be our most active cases. We've had hundreds of Focus and Fiesta vehicles repurchased due to their defective transmission systems and we are currently in the process of litigating additional cases involving the exact same issue.
Beware Of Ford's "Buyback" scheme. These buyback offers from Ford dealerships actually have nothing to do with the California Lemon Law and they are not in your best interest.
Nissan
2016 – 2020 Nissan Sentra, Versa, Versa Note, Altima, Rogue, Murano, and Pathfinder. We have assisted many consumers who ended up with Nissan vehicles equipped with CVT transmission systems where the vehicles have required transmission software updates, transmission control module replacements, one or even two entire transmission system replacements, yet the vehicles were never fully repaired. In all cases, regardless of how many trips to the dealership for a repair, there was and still is no permanent fix.
Your Nissan may be a lemon if you are dealing with multiple repairs for the same problems such as:
Loss of power
Hesitating when shifting
Shuddering, shaking or vibration from the transmission
"Check Engine" warning light
"CVT Error" warning light, and more.
Jeep/Chrysler
2015 Jeep Cherokee has the most overall complaints, and the 2014 Jeep Cherokee has the most transmission system problems.
2013 to 2015 Jeeps are known for having the following problems:
hard shifts (if it shifts at all),
transmission shifts on its own, or slips,
complete failures in which the transmission shifts into neutral while driving, lunging,
unexpected disengagement of the transmission,
repeated activation of the Transmission Failure and Check Engine warning lights.
The complaints involving the transmission system problems with the Jeep Cherokee are similar to the ones we hear about the Ford Focus and Ford Fiesta.
Chrysler
You have made repeated trips to your Chrysler dealership for the same transmission system problems and have been told "it's not the transmission, it's the way you're driving, or it's the way someone in your household is driving the car before/after you last drove it." Either way, the typical explanation to the ZF-designed 9-speed transmission problems is that the vehicle has to learn how you drive.
Thank you so much! After reaching a dead end with my car's manufacturer, I was beginning to think that I would be stuck with my lemon forever. I couldn't sell it privately in good conscience, so it seemed like my only option was a very low trade in value. After a little research I found CLLG and they made things right. I am more than satisfied with my refund check and Debbie was an absolute pleasure to work with. They explained every step of the process thoroughly and responded to all my questions quickly. I am so glad that you exist! – Chris L., San Francisco, CA
Ford Focus and Ford Fiesta lemon lawsuits may continue to be our most active cases for the remainder of this year, and most likely into next year. However, the luxurious Mercedes-Benz may join the ranks of most active lemon lawsuits. We're starting to see more Mercedes-Benz lemons for problems such as:
doors, windows and alarms self-activating or malfunctioning
engine stalling or not starting
transmission vibration and/or hesitation
illumination of the check engine light or other dash lights