Last Updated: December 2016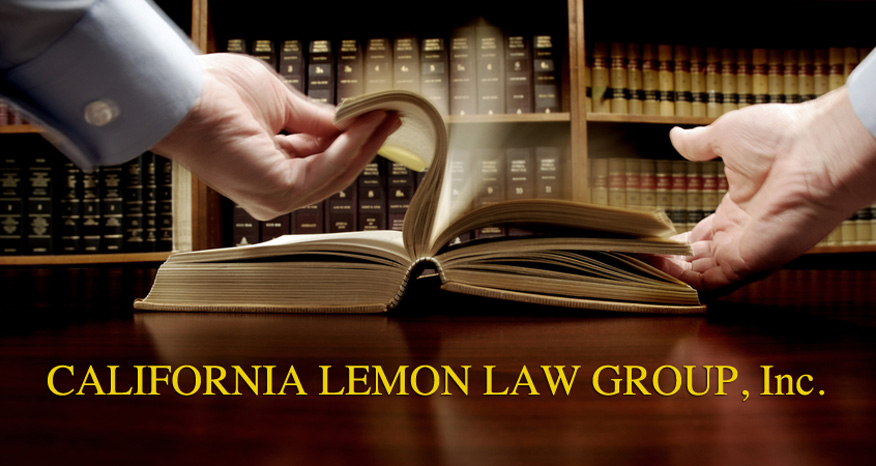 As frustrated as you may be with constant trips to your dealership for the same problem, not all problematic vehicles are considered "lemons." While Lemon Laws differ from state to state, California's Lemon Law actually favors the consumer significantly more than most other states. For example, in California, if a consumer wins their case, the automobile manufacturer is required to pay for the consumer's attorney's fees and costs. The consumer does not have to pay anything. With that said, California has strict criteria that must be met before your vehicle can qualify as a true lemon.
California's Lemon Law:
In order for us to obtain a full lemon law repurchase for you pursuant to the Song-Beverly Consumer Warranty Act, California's Lemon Law, we have to prove 3 things:

Your vehicle was taken to a factory authorized dealership for a specific defect four or more times (for the exact SAME problem); and
The defect cannot be repaired after four or more repair visits; and
The defect substantially impairs your use, value, or safety. The substantial impairment requirement means that your vehicle's defect needs to be serious enough that it severely impacted your use, value, or safety. If you are putting more than 20,000 miles on your vehicle per year, this makes it extremely difficult to prove that your use, value, or safety have been substantially impaired.
In order for us to win, we have to show that the factory authorized dealership has had repeated opportunities to repair to the vehicle, but they cannot actually repair the problem. The law only requires that you present the vehicle for repair, it does not require that the dealership verifies the complaint. But, if you have taken your vehicle to the factory authorized dealership multiple times for the same problem and they have never verified it or made a repair under the factory warranty, it is very unlikely that the manufacturer will buy the vehicle back under the California Lemon Law.
While defects such as radio, blue tooth, wind noise, or navigation system defect, are extremely frustrating and we want our vehicles to operate properly, these kinds of defects typically do not rise to the level of a substantial impairment under the law. A vehicle can still get you from one place to another if the radio does not work or the blue tooth system cuts out. The law views these kinds of defects as a nuisance and the automobile manufacturer is not likely to repurchase a vehicle for the failure of the radio, blue tooth, navigation system, or because the vehicle makes wind noise.
If you are thinking about starting a lemon law case, you really SHOULD NOT do any of the following:
 Tell your service advisor that the car is a lemon and you are calling an attorney. If you tell this to a dealership employee while your car is in the shop being repaired, your   repair invoice may say something like "could not duplicate the problem, no repairs made." This is the last thing you want to have happen if you think your vehicle is a lemon.
Post anything on a social media website or an auto forum chat room. It is fine for you to browse these sites and look at what other people are posting, but if you post anything on a site like bimmerworld, bimmerfest, caddychat, jettajunkie, benzworld, nissanclub, gmtruckclub, or even on your own Facebook page or Twitter account, and then you begin a lemon law claim against an automobile manufacturer, the attorney for the automobile manufacturer will likely find what you have posted and try to use it against you in a deposition, mediation, or even at trial.
Lose your repair invoices. The most important documents needed in order to make a lemon law case are the actual repair invoices the dealership gives you when you pick up your vehicle after it has been repaired. Keep them together with the purchase contract in a safe place in your home, not in your glove compartment. Documents disappear from glove compartments too often.
If you think your vehicle is a lemon, please feel free to fax or email us a copy of your purchase contract or lease agreement (copied onto 3 regular sized sheets of paper, top, middle and bottom), a copy of your current registration, and all of your repair invoices from the dealership. We will evaluate your case for you the same day and let you know if we can help you.
If you have any questions regarding your particular situation, and you reside in the State of California, please call us toll free at
1-855-595-3666.
Our services are ALWAYS FREE to the consumer!