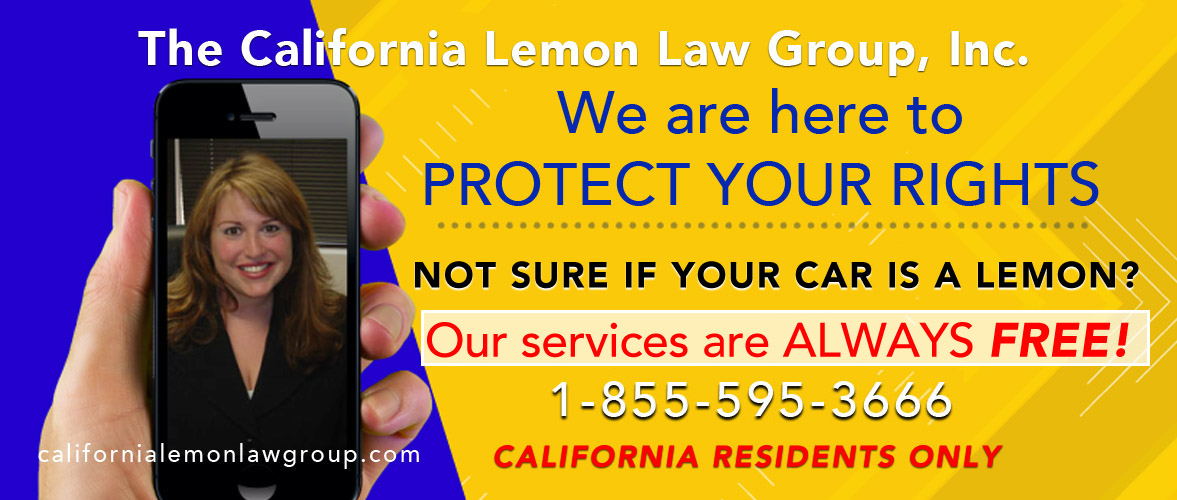 Deborah L. Horowitz, Esq. has more than 15 years of experience as an attorney and is considered to be a  California Lemon Law specialist. She has dedicated her entire legal career to protecting the rights of the people of the State of California.
The California Lemon Law Group, Inc. has offices located throughout the state of California and represents consumers statewide, so you can rest assured knowing that the attorney representing your Lemon Law Case will meet with you in person, and will personally represent you in court.
Is Your Newly Purchased Vehicle Constantly Breaking Down?
If you have purchased or leased a vehicle, motorhome, or motorcycle, either brand new, certified pre-owned, or used, that has been subject to four or more repairs under the original manufacturer's warranty for the exact same problem, you may be entitled to relief under the lemon law.
We can determine if you have a lemon law case and  will then work with you – and for you –  every step of the way, from initial consultation to final settlement.
We've successfully settled more than 8,000 lemon law cases
Our wealth of knowledge in California Lemon Law
Your calls and emails are always answered in a timely manner
We deal with the stress so you don't have to
We value your time as much as we value our own
All cases are resolved with the highest ethical standards
We strive to get you a quick and fair resolution
We have a longstanding relationship with all of the attorneys who represent the automobile manufacturers
How Much Does it Cost to Hire a Lemon Law Attorney?
The California Lemon Law Group, Inc.

does not charge any fees or costs to you, ever

. 
Under the California Lemon Law, the automobile manufacturer is required to pay all reasonable attorney's fees and costs to Plaintiff's attorney if that attorney wins the case. Some  lemon law attorneys will charge you up front for their services. In addition, some lemon law attorneys will take a percentage of what they win for you on top of their attorney's fees and costs.
With The California Lemon Law Group, Inc. there are absolutely no hidden fees or costs with our firm. Furthermore, unlike some lemon law attorneys, we do not charge a retainer or contingency fee to the consumer.

Will I know Who is Representing the Manufacturer?
We will tell you up front who will be representing the defendant in your case. If an attorney cannot tell you up front who's on the other side, then they probably do not have that much experience in handling lemon law cases in California.
Automobile manufacturers rarely change law firms so most of the automobile manufacturers have used the same attorneys for many years.  We have a longstanding relationship with the other side's law firms, and excellent working relationships with all of the attorneys who represent the automobile manufacturers. These relationships help us to ensure the best and quickest settlements for our clients.
Get Started on Your Lemon Law Case TODAY!
Schedule a consultation. If you do not live near one of our office locations, we can come to you at no cost to you.
Check out our FAQ page for additional information regarding how to qualify for a lemon law buyback, what types of vehicles are covered by the lemon law, and more.
San Diego – Main Office:  
The Promontory
11440 West Bernardo Court, Suite 300
San Diego, CA 92127
Phone TOLL FREE: 855-LWL-LEMON
( 1-855-595-3666 )
Office Hours: 8:30am to 5:00pm
All Offices are By Appointment Only