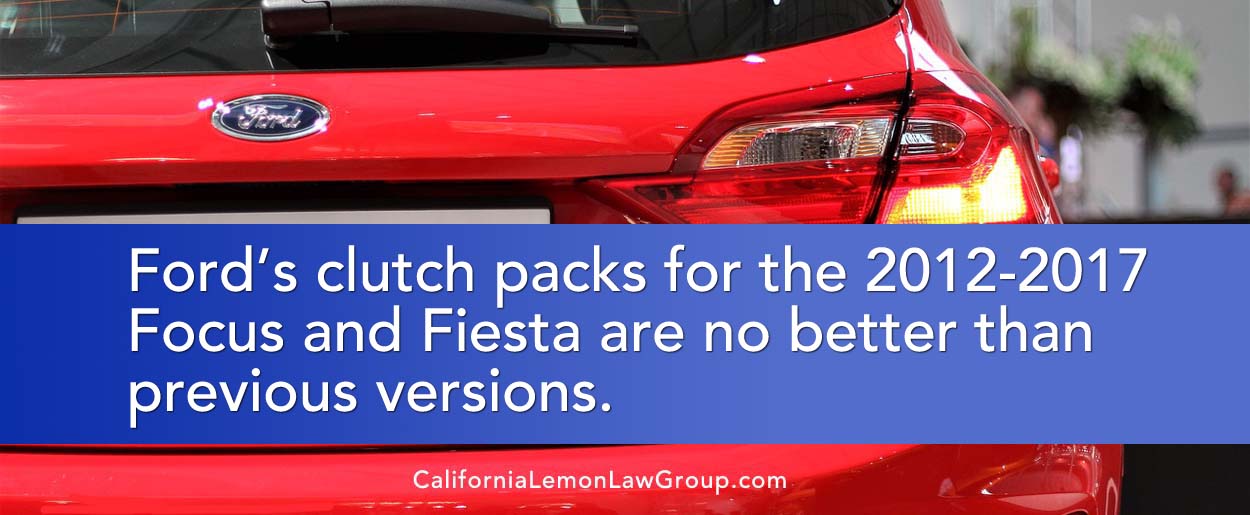 Ford's "new and improved" clutch packs for the 2012-2017 Focus and 2012-2017 Fiesta are no better than previous versions. Regardless of what your Ford dealership may tell you, there's nothing normal about a new car that shakes and shudders.
Three years ago, through Ford's 14M01 program, Ford extended the transmission system warranty of 2012-2014 Ford Focus and the 2011-2014 Ford Fiesta to 7 years / 100,000 miles. This warranty goes into effect after the 5 year / 60,000 mile power train warranty and it only applies to the PowerShift 6-speed automatic transmission (DPS6). The 7 year/100,000 mile warranty covers the transmission system clutches,  transmission system inner and outer input shaft seals, and the transmission system software for the transmission control module (TCM)  in the 2012-2014 Ford Focus and the 2011-2014 Ford Fiesta. Shortly after releasing 14M01, Ford Motor Company released 14M02, which extends the transmission system warranty to 10 years/150,000 miles on the transmission control module (TCM) itself for the 2012-2014 Ford Focus and the 2011-2014 Ford Fiesta.
Since Ford's introduction of the DPS6 transmission system, Ford has developed at least six different generations of "revised clutches" with each new set supposedly being better than the last.  The problem is their new clutches are no better than previous versions.
The problem with continually redesigning the clutches is every time there is a redesign, the part manufacturer has to go back to the drawing board and figure out how to improve the part. This not only takes time, it creates an extremely long wait for owners of the Fiesta and Focus to receive the parts that they need because once the new parts are designed, they take time to manufacture and distribute. What this means for the average Fiesta and Focus owner is a two month or longer wait for the new clutches. A Focus or Fiesta owner will bring their vehicle to their local Ford dealership and complain that their transmission is shuddering, hesitating, jerking, overheating, stalling, shifting hard, or their "Transmission Malfunction" warning light, "Check Engine" warning light, or "Transmission Overheat – Pull over Now" warning light keeps activating. The Ford dealership will determine that new clutches are needed, place an order for the parts, and send the Focus or Fiesta owner home with their defective vehicle to wait for months until the parts are available. And the Focus or Fiesta owner has to continue to drive their defective vehicle while they wait. Unfortunately, in the automobile industry, this is just business as usual for a giant company like Ford Motor Company.
Who knew my Ford is a lemon?
Auto manufacturers know when a part is faulty. Auto parts makers know. The only people who do not know about the faulty parts are the consumers. An example of the "Who knew what, and when did they know it?" is with the Takata air bag lawsuit. The lawsuit alleged that automakers knew of the deadly air bag defects for more than a decade but still used them because Takata was cheaper than their competitors. In addition, Takata was able to produce the large quantities that auto makers needed.
In 2014, auto makers announced a recall for the air bags, yet it wasn't until January of this year that Takata entered a guilty plea as part of an agreement with the Department of Justice to resolve the agency's investigation into the matter. Perhaps the difference between Ford's transmission system and Takata's air bags is  Takata's air bags were specifically installed in vehicles to save lives but their defective parts caused people to become seriously injured or killed in automobile accidents. Criminal charges were brought against three Takata executives and Takata was fined $1 billion dollars.
The settlement includes a $25 million criminal fine, $125 million in victim compensation, and $850 million to compensate auto makers who have suffered losses from massive recalls.
So what is Ford doing in regards to their not-really-new-and-improved clutch packs and faulty transmissions?
Same as they have been doing all along: Trying to convince consumers that the shaking is "normal" and they need to learn how to drive these new automatic transmissions. When that fails to solve the problem, consumers are contacting lemon law attorneys to assist and with the right attorney, Ford will buy back your Fiesta or Focus.
Before you quickly agree to any offer from your Ford dealerhip for your Focus or Fiesta, contact us first.
If you have any questions regarding your particular situation, and you reside in the State of California, please call us toll free at
1-855-595-3666
Our services are ALWAYS FREE to the consumer!