Last Updated: October 2020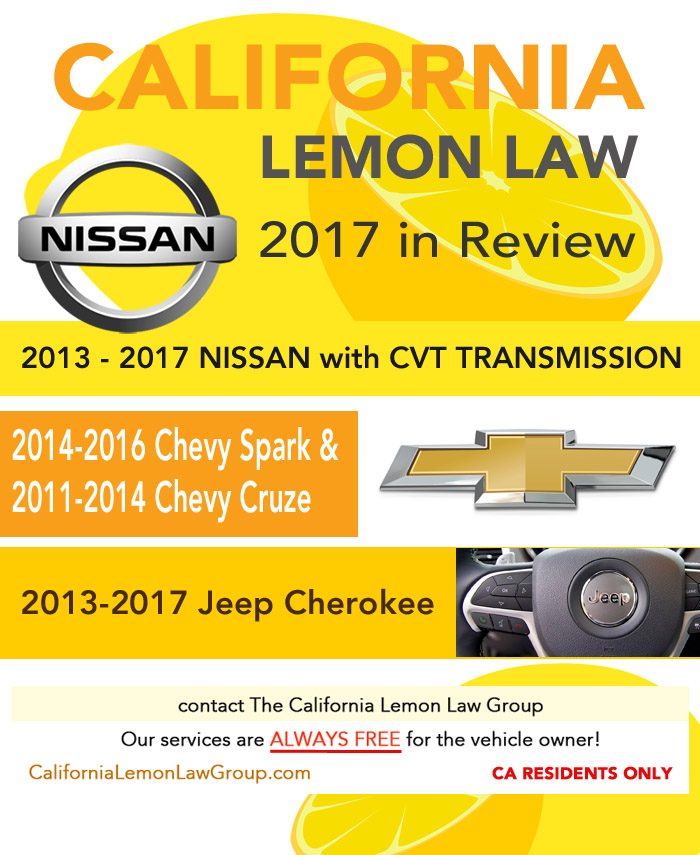 In a year when we've seen many consumer protection laws and regulations being rolled back, it's good to know that California residents still have the California Lemon Law on their side! In fact, California has one of the strongest and most pro-consumer lemon laws in the entire country.
Which Vehicles Had the Most Lemon Law Claims in 2017?
We certainly cannot speak for the entire country. However, the following vehicles (new, used, or leased) had the greatest number of cases filed at The California Lemon Law Group in 2017. To date, we have had a 100% success rate.
We've settled thousands of lemon law cases this year involving various makes and models. Our number one lemon case up until the 9-5-17 Vargas v. Ford Class Action Settlement Opt Out deadline was the 2012-2017 Ford Focus and the 2011 to 2017 Ford Fiesta. Consumers that did not opt out of the Class Action were automatically opted in and we could no longer sue Ford Motor Company under the California Lemon Law under those circumstances.
Towards the end of the year, our most frequently heard complaints from vehicle owners involved 2013 to 2017 Nissans equipped with a CVT transmission, the 2014 to 2017 Chevy Spark with transmission system problems, the 2014 to 2017 Chevy Cruze with transmission system problems, and the Jeep Cherokee equipped with a 9-speed automatic transmission system.
2013-2017 Nissans with CVT Transmissions
Our clients have had multiple repairs done on their Nissan vehicles for the exact same problems such as:
Loss of power;
Hesitating when shifting;
Shuddering, shaking or vibration from the transmission;
"Check Engine" warning light;
"CVT Error" warning light, and more.
2014-2016 Chevy Spark and 2011-2014 Chevy Cruze
Chevy Spark and Cruze owners are experiencing much the same transmission problems as owners of other makes and models with the CVT transmission system.
2013 – 2017 Jeep Cherokee 9-speed Automatic Transmission
Some consumers have found themselves in the position of having to take their Jeep Cherokee into the Jeep service department for transmission problems they should not be experiencing. Some consumers are being told that it is a software problem that only requires an update or "re-flash" while some are being told that their transmission systems are operating "normally" for a 9-speed transmission system. Typical complaints we hear are:
hard shifts (if it shifts at all),
transmission shifts on its own, or slips,
complete failures in which the transmission shifts into neutral while driving,
lunging,
unexpected disengagement of the transmission,
repeated illumination of the Transmission Failure, Check Engine light.
If you believe that your vehicle is a lemon, do not complain to the dealership's service advisor that your car is a lemon, and do not try to sue the auto manufacturer on your own. An extremely small number of consumers are able to obtain a repurchase or a replacement from an automobile manufacturer without adequate legal representation and in some of these cases, the consumer does not actually get everything that they are entitled to under the law. If you believe that you have a lemon, please feel free to call us. Our services are ALWAYS FREE to the consumer.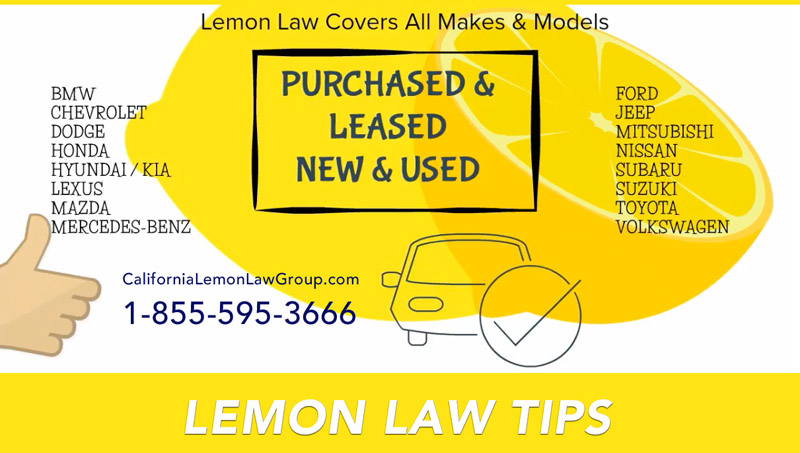 1. Do Not Trade in a Vehicle That You Suspect is a Lemon Without Consulting us First
We receive calls every day from people who are sick and tired of taking their new car to the dealership for the same repairs and sadly, by the time they do call us, they have already traded their lemon in for something new. It is completely understandable to want to get rid of a vehicle that is nothing but trouble. However, by trading the vehicle in, you may be leaving quite a bit of money on the table, along with trading in one problem for another.
2. The BBB is Not on Your Side
If you do try to go through the Better Business Bureau's Autoline Dispute Resolution Program, you may think that you are getting a fair and unbiased neutral person to hear your case. Unfortunately, it seems that the unbiased neutral mediators are actually paid for by the automobile manufacturers. We have had clients come to us for assistance after an unfair result at the BBB's hearing and we have gotten them a much better result.
3. A "Buy Back" is Not Always "A Good Thing"
Occasionally, an automobile manufacturer may agree to buy your vehicle back from you, but the terms of the buy back may not conform to the law. For example, under the law, you are entitled to reimbursement for your down payment, all monthly payments made,  your current year registration fee, all of your out of pocket rental car fees, all of your towing fees, and the manufacturer has to pay off the balance owed on your auto loan. The only items to be deducted from your refund are the mileage offset (usage fee) placed at the very first time you presented your vehicle for a repair of the defect for which it is being repurchased, manufacturer's rebate, and any aftermarket items added to the purchase.
4. Arbitration is Never in Your Best Interest
Arbitration provisions in consumer contracts are not voluntary, especially when an entire industry has adopted them. Automobile dealerships are independent from the manufacturers so you should also check your warranty book for their arbitration clause. This pre-litigation requirement is included in most manufacturers' warranty manuals. If the consumer loses at arbitration (and the vast majority of consumers lose) or if the consumer is dissatisfied with the remedy awarded to them, the lemon law allows the consumer to file a lawsuit. Some auto manufacturers may require that you go through arbitration before you can file a lawsuit under the California Lemon Law. (Read more about Arbitration vs Lemon Law Cases.)
5. Look for Hidden Fees in Lemon Law Retainer Agreements
Under the California Lemon Law, the automobile manufacturer is required to pay all reasonable attorney's fees and costs to Plaintiff's attorney if that attorney wins the case. To date, The California Lemon Law Group has a 100% success rate. Some unscrupulous lemon law attorneys will charge you up front for their services. In addition, some lemon law firm's retainer agreements say the firm will never charge a client for incurred attorney's fees, but the client is solely responsible for all attorney's costs including filing fees, process serving fees, jury fees, postage, travel, paper copies, fax copies, seeking assistance of private investigators, automobile experts, etc., even though these costs are 100% recoverable from the automobile manufacturer. Our office does not charge anything up front and we do not take a percentage of what you are entitled to under the law.
6. Not Every Problematic Car is a Lemon
In order for us to obtain a full lemon law repurchase for you pursuant to the Song-Beverly Consumer Warranty Act, California's Lemon Law, we have to prove 3 things:
Your vehicle was taken to a factory authorized dealership for the same major defect four or more times (for the exact SAME problem); and
The defect cannot be repaired after four or more repair visits that were all covered by the original factory warranty; and
The defect substantially impairs your use, value, or safety. The substantial impairment requirement means that your vehicle's defect needs to be serious enough that it severely impacted your use, value, or safety. If you are putting more than 20,000 miles on your vehicle per year, this makes it extremely difficult to prove that your use, value, or safety have been substantially impaired.
Give us a call at 1-855-595-3666