Last Updated: October 2022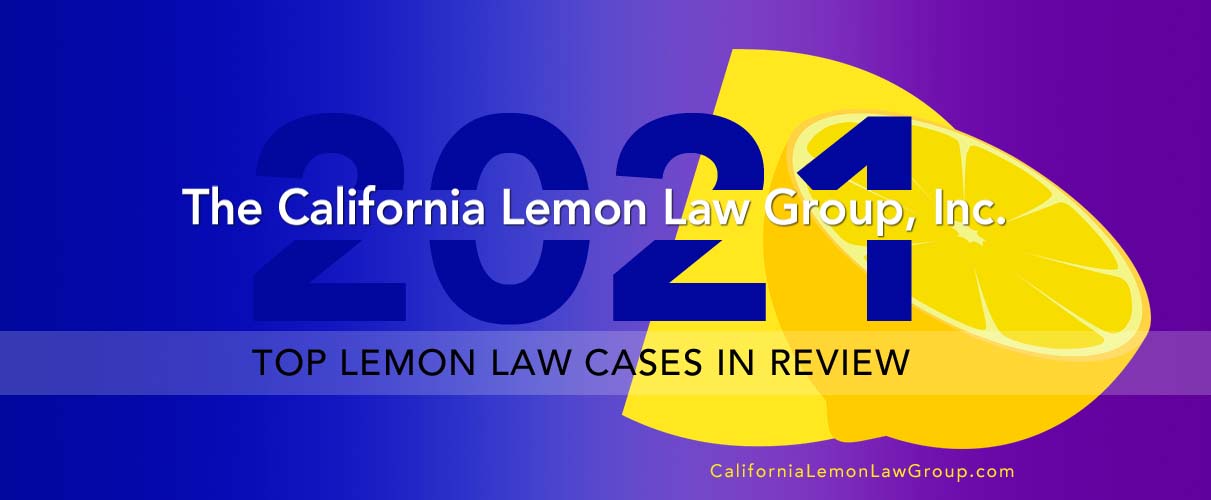 At The California Lemon Law Group, our focus is on getting you the largest settlement allowed under the law. We do not charge a retainer fee, nor do we have any hidden fees and charges. We represent our clients at absolutely no cost, which means that you receive larger settlements than you would on your own, or with some other law firms.
The following vehicles (new, used, or leased) had the greatest number of cases filed at The California Lemon Law Group in 2021.

HYUNDAI KONA EV LEMON LAW CASES

The US National Highway Traffic Safety Administration issued a recall for 2019 – 2020 Hyundai Kona and 2020 Hyundai Ioniq electric vehicles after over a dozen battery fires were reported. What makes these fires more dangerous than a gas fire is that Lithium-ion batteries burn hotter and longer. There is also a domino effect that takes place; when one battery catches fire in the battery pack, it ignites the next battery, and so on. As it does, the fire increases in temperature and can last for hours!
Some owners of Hyundai Motor's Kona electric vehicles have complained about their recall program, citing delays and communication problems. We have also been successful in getting these vehicles repurchased for our clients.

CHEVROLET SILVERADO/GMC SIERRA TRUCK  LEMON LAW CASES

Common lemon law cases we have successfully settled on behalf of California Chevy Silverado owners involve transmission and engine problems such as:
Sputtering and stalling
Engine vibration
Check engine light activating
Hesitation or lagging upon acceleration
Loss of power
The Chevy Silverado 1500 and GMC Sierra 1500 have the same platform, engines, and transmissions so they may also share the same transmission and engine problems.

CHEVY BOLT EV LEMON LAW CASES

GM has recalled their all-electric Chevy Bolt numerous times due to the batteries catching fire suddenly and without any forewarning. These batteries, manufactured by LG Chem in South Korea, have the chance of catching fire even when the vehicle is not plugged in to charge.
There is no ETA for GM's battery replacement fix. Dealerships do not have extra battery packs to put in recalled Chevrolet Bolts. Some dealerships are recommending that consumers contact GM for a possible buyback. We have been told by many of our clients that they have contacted GM, GM agreed to a buyback, but months have gone by and GM has not followed through on their buyback offers. Because GM is not following through on their buyback offers in a reasonable amount of time, we have filed suit against GM in many of these cases. For that reason, before you contact GM, please call us first. Or, if this has happened to you, please call us immediately for assistance with a buyback. As lemon law attorneys, we can negotiate a better deal for you than you can negotiate on your own.
In the case of most recalls, the defect is typically brought to your attention by the dealership or the automobile manufacturer. A defective vehicle that can be classified as a lemon is not the same as a defective vehicle that has been recalled. Likewise, "recall repairs" (repairs initiated by the manufacturer) do NOT count as "repairs" under the Lemon Law. The Chevy Bolt EV recall and the Hyundai Kona EV recalls are exceptions to this rule because these vehicles cannot be driven as promised when they were sold to consumers, the range has been reduced by the automobile manufacturer, the vehicles can catch on fire without warning, and consumers were not given any of this information before they purchased these vehicles. For these cases, we are going after GM and Hyundai for  lemon law violations as well as fraud and misrepresentation.

RAM 1500 AND 1500 CLASSIC ECODIESEL LEMON LAW CASES

Ram 1500 and 1500 Classic EcoDiesel model years 2014* – 2019 that are equipped with the 3.0-liter EcoDiesel V6 engines have an Exhaust Gas Recirculation (EGR) cooler that is prone to cracking. Hairline cracks allow vaporized coolant to enter the engine and catch on fire inside the intake manifold.
Some of the problems with the EcoDiesel that we are currently seeking remedies for under the California Lemon Law are:
Severe loss of power
Check Electronic Throttle Control warning
Engine vibration
Engine failure at low miles due to cam gear slippage
Check engine light
*MODEL YEAR RESTRICTIONS APPLY – In order for us to file a lemon law case your vehicle must be a model year 2017 or newer and still covered by the original factory warranty.

The Two main reasons why you should NOT file a lemon law case on your own:
You are not going to be satisfied with the settlement; it may not be what you COULD/SHOULD have received.
You are wasting time and effort on something you could have had done for FREE — and with a better settlement.
To receive the maximum settlement allowed under the law in CA, hire a lemon law attorney.
But not just ANY lemon law attorney!
A number of California Lemon Law firms charge up front fees for their services. In addition, some will take a percentage of what they win for you on top of the attorney's fees and costs that are paid directly by the automobile manufacturer; which is double dipping. Some law firms get 50% (or more) of all punitive damages. 
If you think that your vehicle may be a lemon, it is best to call a lemon law attorney right away; not the automobile manufacturer. You can call the 800 number in your owner's manual to ask the manufacturer for help, but chances are the manufacturer will not assist you, or worse, they will assist you but you will not like their offer.
Many vehicle owners that have called the manufacturer directly are often told that they do not have a lemon law case but they are welcome to continue bringing their car in for warranty repairs and their warranty will always be honored. If a consumer calls an automobile manufacturer to request a lemon law buyback and the automobile manufacturer agrees to buy the vehicle back, but the refund contains deductions for the statutory usage fee, aftermarket accessories, aftermarket contracts, negative equity, etc., if that offer complies with the law, we cannot then file a lawsuit to attempt to obtain a better deal. The California Lemon Law is very specific about this.
If a consumer is offered a buyback that complies with the law, the law does not allow us to file a lawsuit to try to get the consumer more money. But we CAN attempt to obtain more money for the consumer than they are entitled to under the law by filing a lawsuit before the consumer contacts the automobile manufacturer. We receive countless calls from unhappy consumers who contacted the manufacturer on their own, they got a buyback, but they do not like the deal even though it complies with the law. We cannot help these consumers, so if you think you may have a lemon vehicle, and you want your money back, please call us FIRST for our free case evaluation.
What's the Most Common Vehicle Defect Resulting in a Lemon Law Case?
The majority of our lemon law cases over the years have involved faulty transmissions and engines, with the greatest number of cases being on behalf of Ford and GM owners.
Give us a call at 1-855-595-3666
The California Lemon Law Group works only with California residents.