Last Updated: October 2021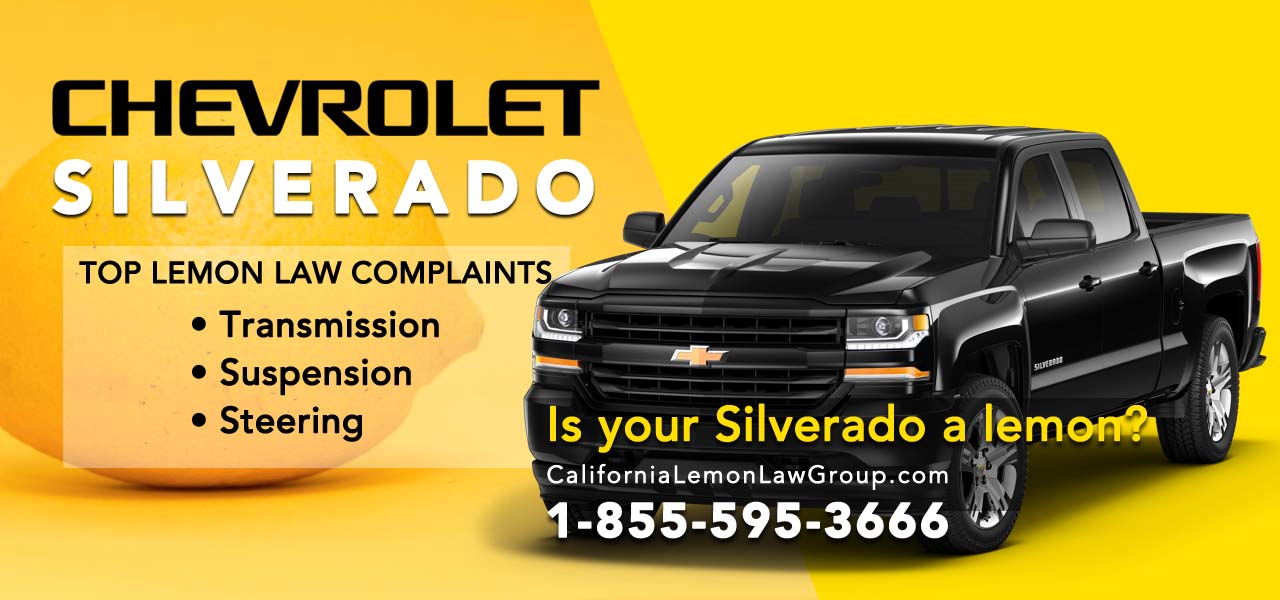 The top three complaints we hear about the Chevrolet Silverado and the Silverado 1500 for potential lemon law claims involve:
Transmission problems
Suspension problems
Steering problems
The "Chevy Shake"
Does your Chevrolet Silverado feel like you are riding a bucking bronco? The main complaint we hear about the Chevrolet Silverado, and the Chevrolet Silverado 1500, is the constant shaking and shuddering while driving at speeds above 45 mph.
GM dealers have received numerous service bulletins regarding the vibration problem, with a long list of suggested repairs, such as new tires, new shocks, rebalancing the tires, and other useless attempts at resolving the problem. A service bulletin (Pi1354A) issued in December for the 2014 and 2015 Chevrolet Silverado and Chevrolet Silverado 1500, and the GMC Sierra and Sierra 1500 provides extensive details about all of the different repair attempts that should be taken when a customer complains about a vibration problem.
In addition to the vibration problems, vehicle owners have made multiple trips to their dealerships for the exact same transmission system problems that never get resolved.
The below complaint posted on carcomplaints.com is similar to what we hear from our clients:
Chevrolet Silverado 1500
"My problem is like a lot of the other complaints that I've been reading. I purchased my 2017 LTZ Z71 with a 5.3 and 8 speed transmission in late 2016 and after driving it for a month or so I really started to notice surges and jerks mostly at low speeds and sometimes slowing down coming to a stop. The jerks sometimes feels like I got hit from behind. After several visits to the dealer and long discussions with service management, I was first told it had to learn my driving habits. Then I was told it is a normal characteristic of the transmission."
Interesting to note that his dealership told him that his vehicle had to "learn his driving habits." This is the same thing owners of the Chrysler with the ZF 9-speed transmission were told.
The 8-speed automatic transmission in the Chevrolet Silverado is the 8L90 or 8L45, which is found in numerous GM vehicles. In addition to the shuddering problem with this transmission system, vehicle owners are also complaining about very harsh shifts between first and second, and then from second back down to first.
Steering and Suspension Problems
GM is also aware of the suspension and steering problems, such as clunking or grinding noises, steering wheel vibrations, or steering wheels locking up.
Last year, GM became aware of 30 crashes and two injuries related to power-steering loss and recalled the 2015 Chevrolet Silverado 1500 and GMC Sierra 1500 pickup trucks, along with Cadillac Escalade, Chevrolet Tahoe and Suburban, and GMC Yukon SUVs.
GM said the power-steering problem is related to the same electrical issue that led the automaker to recall 690,685 of its 2014 Chevrolet Silverado and GMC Sierra trucks in 2017.
People are starting to complain about the same steering problems in the 2019 Chevrolet Silverado 1500.
Is Your Chevrolet Silverado a Lemon?
Not all problems with your Chevrolet Silverado will meet lemon law standards. Under the California Lemon Law, you are protected in the event that you purchased or leased a defective vehicle; not problems you find annoying.
A lemon is a vehicle that, after four attempts at repairing it under the original factory warranty, for the exact same problem, the vehicle cannot be repaired and the defect substantially impairs your use, value, or safety.
Examples of defects considered safety-related:
Transmission system problems.
Steering components that break suddenly causing partial or complete loss of vehicle control.
Problems with fuel system components, particularly in their susceptibility to crash damage, that result in leakage of fuel and possibly cause vehicle fires.
Accelerator controls that may break or stick.
Seats and/or seat backs that fail unexpectedly during normal use.
Critical vehicle components that break, fall apart, or separate from the vehicle, causing potential loss of vehicle control or injury to persons inside or outside the vehicle.
Wiring system problems that result in a fire or loss of lighting.
What if GM Offers to Buy Back Your Chevrolet Silverado?
In regards to any automobile manufacturer buyback offer, the only way it works out in your favor is if it is done as a California Lemon Law Buyback. The California Lemon Law is the only way to get rid of your lemon AND recover most/all of your money.
Should You Join a Chevrolet Silverado Class Action Suit?
Before you decide to join in on a Class Action suit, consider this: Filing a lemon law case against an automobile manufacturer instead of joining a class action means that you are not stuck with having to wait a few years for a settlement, or settle for a few hundred dollars, or get coupons, rebates, or a small amount of money "towards the purchase" of a new vehicle that may have the exact same problem.
Joining a class action lawsuit also means that you are taking a risk on the quality of legal representation for the class members. If the attorney does a poor job, all members suffer the consequences. The California Lemon Law Group has a 100% success rate!
"I can't give enough praise to Debbie and the California Lemon Law Group. She was so professional and helped me with my case all the way through. I couldn't be happier with the communication and helpfulness that I received. Was an easy and stress free experience. Would recommend to anyone having issues with their lemon." – Myles, Costa Mesa, CA"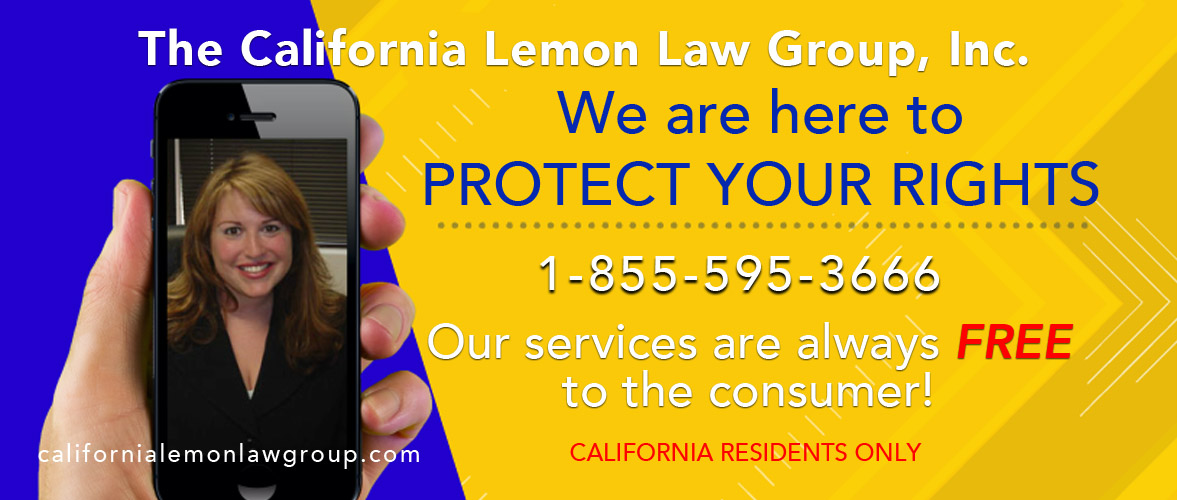 Call us toll free at 855-595-3666
for a free Lemon Law case evaluation