Last Updated: November 2022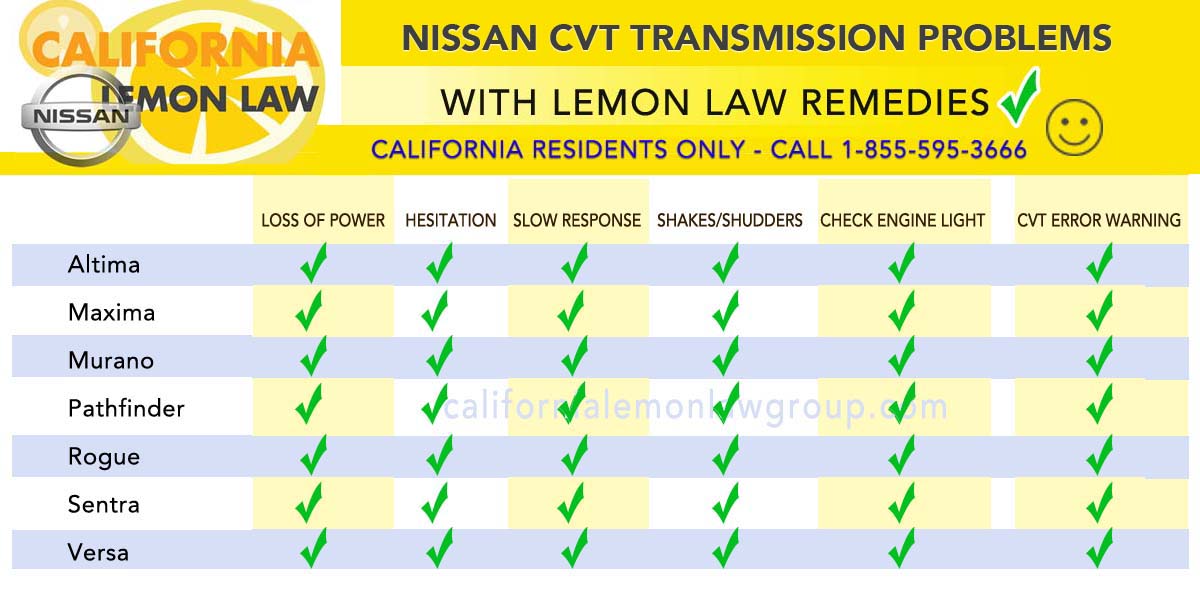 The continuously variable transmission (CVT) in Nissan's 2019 – 2023 Versa, Sentra, Altima, Maxima, Murano, Rogue, and Pathfinder continues to be one of our top lemon law complaints.
The Nissan Leaf doesn't have a "transmission" (at least for the time being; EV transmissions are coming), but it does have its own set of problems that could possibly qualify for a lemon law case, such as continued electrical and/or battery failures that can affect the car's safety while driving.
The good news is that the California Lemon Law applies to all new, used, or leased vehicles, whether they run on gas or electricity.
If you've taken your vehicle to your Nissan dealership multiple times for the exact same problem, and repairs have been made under the original manufacturer's warranty, and that defect substantially impairs your use, value, or safety, you may be entitled to relief under the lemon law.
The most common transmission problems with Nissan's CVT vehicles include:
Loss of power
Transmission slips
Hesitating when shifting
Responding slowly when accelerating
Shuddering, shaking or vibrating
Repeated activation of the check engine light
CVT Error warning light repeatedly turns on
It takes special training to be able to repair a CVT transmission, so parts and labor can be rather costly. Also, if you own a Nissan vehicle equipped with a CVT transmission system and you need to have your car towed to the dealership, you should know that not all CVTs can handle being towed. Check your owner's manual before you call for a tow truck. For example, the Nissan Rogue AWD (CVT) needs to be towed on a flatbed. Towing an AWD with any of the wheels on the ground may cause serious damage to the powertrain. For Front-Wheel Drive (FWD) models, Nissan recommends that your vehicle be towed with the front wheels up off the ground.
Is Your Nissan a Lemon?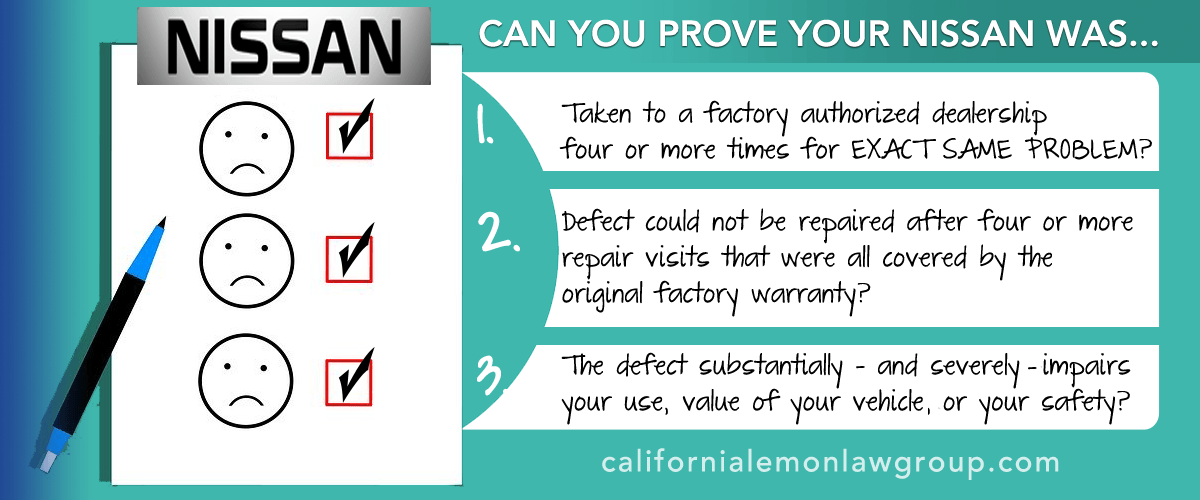 In order for us to obtain a full lemon law repurchase for you pursuant to California's Lemon Law, we have to prove 3 things:
Your vehicle was taken to a factory authorized dealership for the EXACT same major defect four or more times; and
The defect cannot be repaired after four or more repair visits that were all covered by the original factory warranty; and
The defect substantially impairs your use, value, or safety. The substantial impairment requirement means that your vehicle's defect needs to be serious enough that it severely impacted your use, the value of your vehicle, or your safety. If you are putting more than 20,000 miles on your vehicle per year, this makes it extremely difficult to prove that your use, value, or safety have been substantially impaired.
Remember to keep all of your repair orders and invoices so that in the event you want to file a lemon law claim, you have all of the evidence in your possession.
Can a Nissan Dealership Buy Back Your Vehicle?
The only entity that can truly buy a consumer's car back from them under the California Lemon Law is the automobile manufacturer; not the dealership.
Occasionally, an automobile manufacturer may agree to buy a consumer's vehicle back from them, but the terms of the buy back may not conform to the law. For example, under the California Lemon Law, a consumer is entitled to:
The entire down payment; and
All of the monthly payments that have been made; and
Registration fees, rental car fees, and towing fees; and
The manufacturer has to pay off the entire amount owed on the auto loan; and
In addition, the consumer gets to keep their credit report blemish-free because the entire loan balance will be paid off in full by the manufacturer well before the loan was originally supposed to be paid off; and
The only amounts deducted from a lemon law refund are the mileage offset (usage fee) which is placed at the mileage of the very first repair, manufacturer rebates, negative equity rolled into the loan from a traded-in vehicle, and any non-manufacturer aftermarket items.
Still not sure whether your Nissan can be considered a lemon under the California Lemon Law?
Give us a call at 1-855-595-3666