Last Updated: October 2021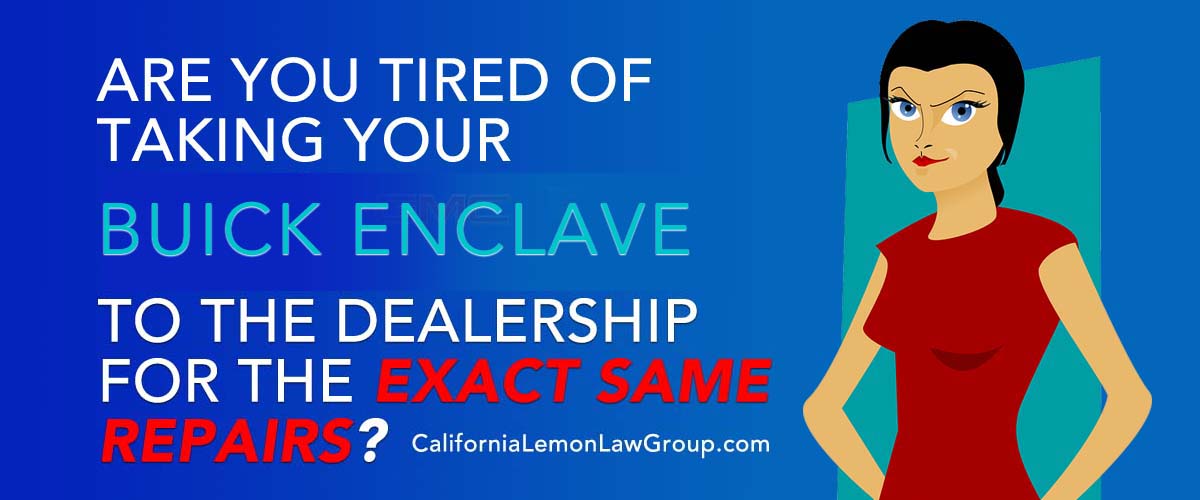 Buick unveiled the second generation Enclave in 2017, complete with their new nine-speed automatic transmission. One would expect that GM would have resolved the various transmission problems that plagued earlier model years of the Buick Enclave, and the GMC Acadia, by now. Apparently not. Considering the common complaints we've been hearing from Buick Enclave owners, clearly the mechanical failures persist.
Some of the common complaints we hear about the Buick Enclave involve the transmission, followed by engine problems:
Lack of response
Low and/or leaking fluid
Grinding or shaking
Whining, clunking or humming
Refuses to go into gear
Torque converter issues
Valve body issues
Gears slipping
No 3rd or 4th gear
No 1st or 2nd gear
No reverse
Check engine light
Fix One Problem, Cause Another
California's Lemon Law actually favors the consumer significantly more than most other states with lemon laws. That being said, California also has strict criteria that must be met before your vehicle can qualify as a true lemon.
In order for us to obtain a full lemon law repurchase for you pursuant to the Song-Beverly Consumer Warranty Act (California's Lemon Law), we have to prove 3 things:
1. Your vehicle was taken to a factory authorized dealership for a specific defect four or more times, for the EXACT same problem.
2. The defect cannot be repaired after four or more repair visits. And again, it needs to be for the exact same problem each time.
3. The defect substantially impairs your use, value, or safety. The substantial impairment requirement means that your vehicle's defect needs to be serious enough that it has severely impacted your use, value, or safety.
After the four repeated trips back to the dealership to get the defect repaired, what happens if the dealership then tells you that GM will "buyback" your Buick? Will the dealership cut you a check in the amount of what you paid for your Enclave? In a word; No. The dealership is actually offering to take your vehicle back — as a trade-in for another vehicle. If you owe more on your Enclave than what it is worth, the dealership will roll that negative equity into your new car loan putting you in more debt than you were before you bought the vehicle.
On the other hand, if you have all of your repair orders and repair invoices and you decide to pursue a lemon law case, you now have a way to get rid of your lemon AND recover most/all of your money.
Buick Enclave DTCs (Diagnostic Trouble Codes)
Automobile manufacturers have codes they use for diagnosing problems related to a vehicle, commonly known as DTC codes. This is how they identify and communicate to the technicians about where and what problems exist. When you bring your vehicle in for the diagnosis of transmission or engine problems, your repair invoice should list whichever codes are stored in the vehicle's computer systems. If your vehicle has the Check Engine Light on, it can mean that your vehicle has one or more confirmed trouble codes active. Some codes will be generic, while others will be specific to a make and model.
Here is a partial list of the DTC codes related to Buick Enclave transmission problems: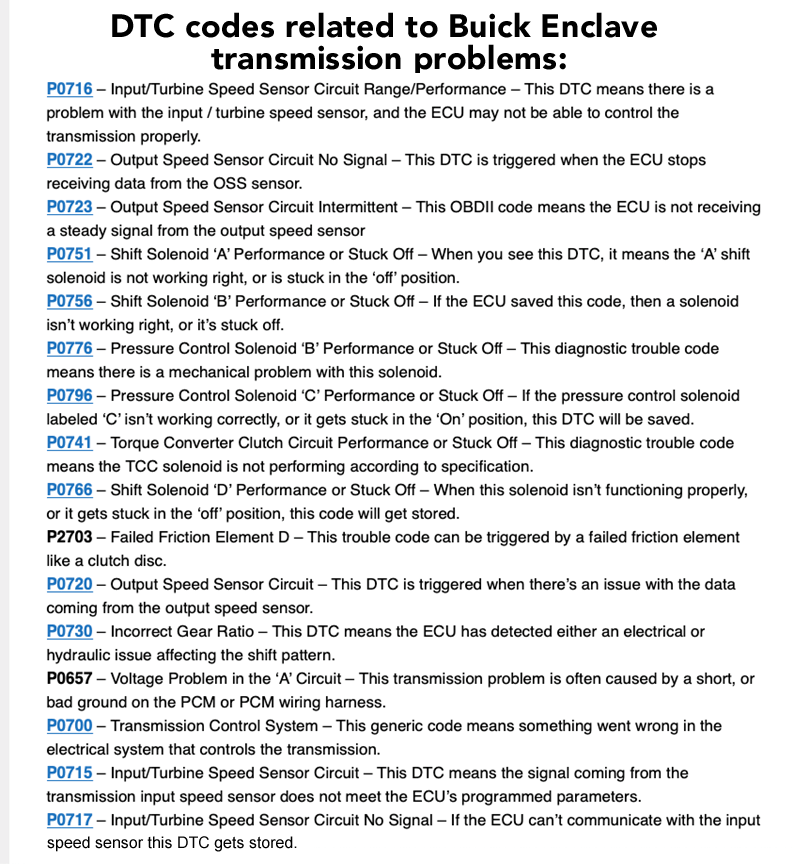 Do you think your Buick Enclave might be a lemon?
Call us toll free at 855-595-3666
for a free Lemon Law case evaluation