Last Updated: October 2021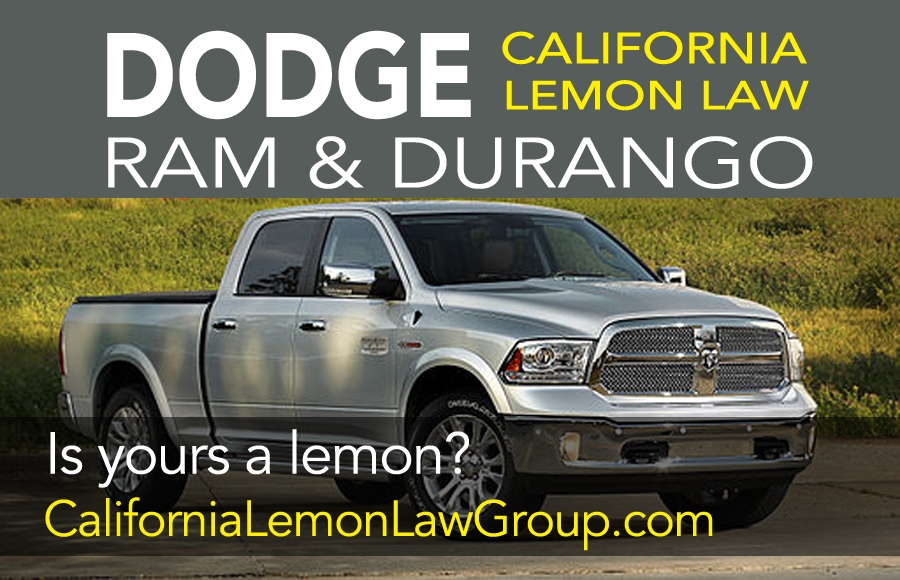 If your Dodge Ram pickup or Dodge Durango SUV is experiencing one or more of the following problems and you have taken your vehicle to an authorized Dodge dealership for repair 4 or more times for the same problem, it may be time to call in a California Lemon Law expert.
Common transmission problems we are hearing about  from our clients include, but are not limited to:
Hard and erratic shifting
Transmission slippage
Overheating
Moving into neutral from a forward gear
Activation of the Check Engine light
Some 2016 Dodge Ram 1500 pickup trucks and 2016 Dodge Durango SUVs have a manufacturing defect that could cause the transmission to not fully engage in Park, which can result in a rollaway situation. The 8-speed automatic transfer cases were not properly machined and in some situations, the vehicle can slip out of Park and cause serious injury and/or property damage.
This rollaway problem is not just happening with the Dodge Ram and the Dodge Durango. Fiat, Chrysler, Jaguar, Land Rover, Jeep, and Ford have all had similar rollaway complaints. In December 2016, the U.S. auto-safety regulators launched a probe into a Fiat-Chrysler defect after receiving reports of rollaway issues and possible gear defects; the defect that allegedly killed actor Anton Yelchin.
NHTSA is also investigating a similar issue.
Other problems with your Dodge Ram or Durango that may qualify under the California Lemon Law include:
Transmission leaks
Fuel pump failure
Electrical issues such as broken gauges, malfunctioning locks, remote start
If you think your vehicle is a lemon, please feel free to fax or email us a copy of your purchase contract or lease agreement (copied onto 3 regular sized sheets of paper, top, middle and bottom), a copy of your current registration, and copies of all of your repair invoices from the dealership. We will evaluate your case for you the same day and let you know if we can help you.
If you have any questions regarding your particular situation, and you reside in the State of California, please call us toll free at
1-855-595-3666
Our services are ALWAYS FREE to the consumer!


FCA Group: Fiat Chrysler, Dodge Lemon Law
Dodge Dart and Dodge Challenger Lemon Law Information
Dodge Ram ProMaster City Transmission Problems
Dodge Challenger Lemon Law Claims
Is Your Dodge Ram 1500 EcoDiesel a Lemon?
Dodge Dart and Dodge Challenger Lemon Law Information