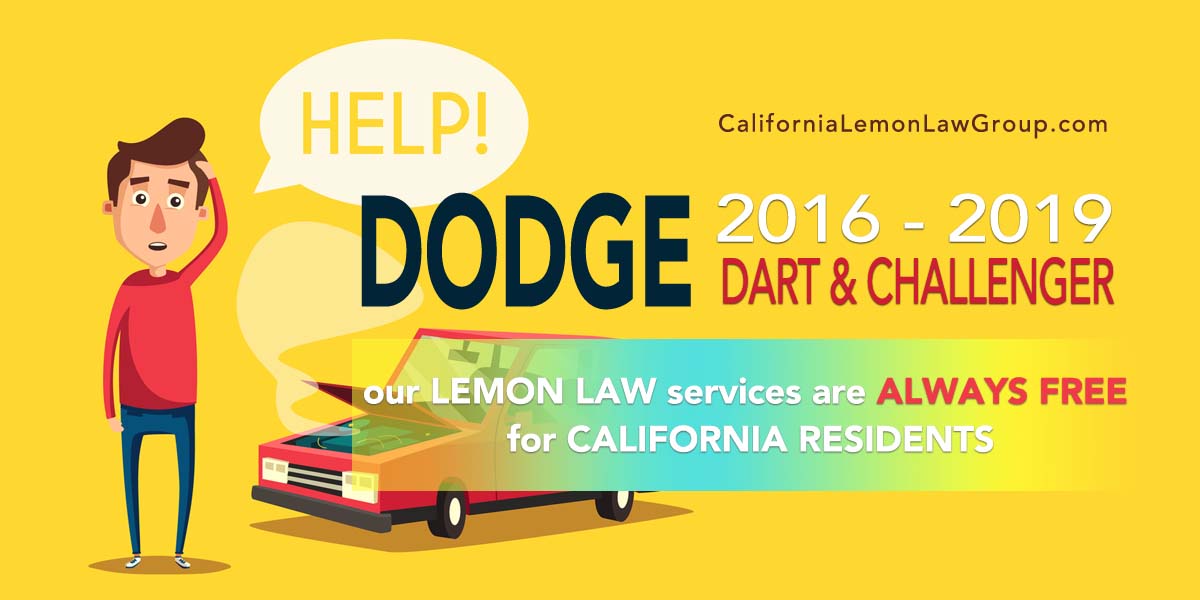 Recurring transmission system problems such as sudden lunging, stalling, and vibrating are just a few of the complaints we have heard from Dodge Dart and Challenger owners. Some of the Dodge Dart, Dodge Charger, Dodge Challenger, Dodge Durango, and the Ram 1500 EcoDiesel may have similar problems that cause vehicle owners to make repeat trips to the Dodge dealership for the exact same problem(s).
Dodge Challenger
Some Dodge Challenger owners have taken their vehicle to a Dodge dealership for repairs of the following problems:
Loss of power with no warning and the "check engine" light comes on;
The vehicle pulls to the left or right when driving;
The vehicle shakes or vibrates when driving;
The transmission shifts hard and/or jerks when shifting gears;
The activation of the "Check Electronic Throttle" warning indicator;
The vehicle surges when accelerating;
The vehicle leaks fluid; or
The vehicle will not go into gear, or the gears slip when driving.
Dodge Dart
Does your Dodge Dart have the Dual Dry Clutch Transmission (DDCT)? With the Dodge Dart, complaints include rough over-revving before shifting, failing to shift, making a grinding noise, exhibiting a burning smell, and overheating. These problems are related to the DDCT.
Less than four and a half years after the new Dodge Dart started rolling off the assembly line, Fiat Chrysler announced the end of the Dart in September, 2016 and retooled that plant for production of the Jeep Cherokee; which has its own set of problems resulting in lemon lawsuits. You can read about the Cherokee transmission problems here.
Even though the Dodge Dart was discontinued in 2016, the auto manufacturer is still fully responsible for fixing any old, or new, problems as long as the vehicle is still covered by the factory warranty.
Some Lemon Law attorneys offer a "free case review" and will have hidden fees and costs in their retainer agreements. The California Lemon Law Group goes beyond offering a "free review" of your case: ALL of our lemon law services are ALWAYS FREE to the consumer — even after you win your case.
In order for us to win a lemon law case, we have to show that a factory authorized dealership has had multiple opportunities to repair to the vehicle, but they cannot actually repair the problem under the original factory warranty.
The best evidence in making a lemon law claim in California is the repair order and subsequent repair invoice provided to you by the repairing dealership. Remember to keep all of your repair orders and invoices so that in the event you want to file a lemon law claim, now or in the future, you have all of the evidence in your possession.
If you have taken your 2016 – 2019 Dodge in for repairs for the EXACT SAME problem four or more times during the factory warranty period, the vehicle may qualify for a lemon law case.
Are you a California resident and think your Dodge might be a lemon?
Call us toll free at 855-595-3666


FCA Group: Fiat Chrysler, Dodge Lemon Law
Dodge Ram ProMaster City Transmission Problems
Dodge Challenger Lemon Law Claims
Is Your Dodge Ram 1500 EcoDiesel a Lemon?
Dodge Ram Pickup Transmission Problems: Lemon Law Alert