Last Updated: October 2021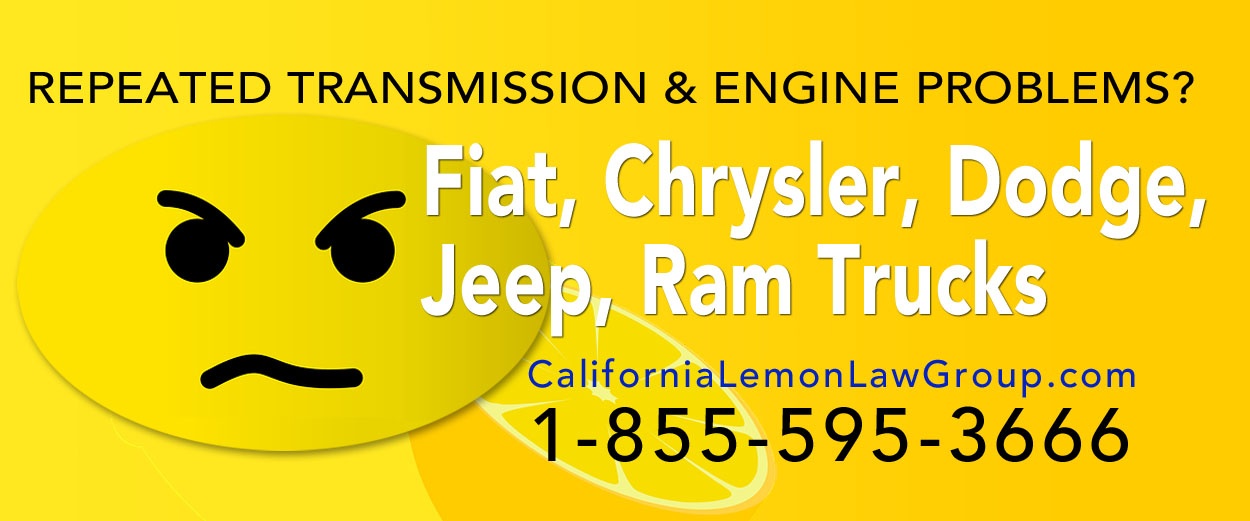 Have you made repeated trips to your Fiat, Chrysler, or Dodge dealership for the EXACT same problem with your vehicle and the problem is never resolved? If so, you may be entitled to file a lemon law claim.
The California Lemon Law, or the Song-Beverly Consumer Warranty Act, applies to three types of vehicles:
New vehicles that are still covered by their original factory warranty, including the bumper to bumper warranty and the powertrain warranty.
Certified pre-owned vehicles that are either still covered by their original factory warranty or they have a factory warranty that has been extended through the cerificaton process.
 Used vehicles that are still covered by their original factory warranty, including the bumper to bumper warranty and the powertrain warranty.
Chrysler 200, Chrysler 300, Chrysler Pacifica Minivan
With the Chrysler 200 transmission problem, vehicle owners were told "it's not the transmission, it's the way you are driving, or it's the way someone in your household is driving the car before/after you last drove it?" Either way, the typical explanation for the ZF-designed 9-speed transmission problems is that the vehicle has to learn how you drive.
Model year 2017 marked the end of production for the Chrysler 200.
In December 2017 Chrysler issued a recall on their Pacifica minivan due to a stalling defect. Specifically, the 2017 (and 2018) have been reported to stall while driving at speeds of up to 60 mph, and while sitting at idle. Stalling while driving is, of course, a grave safety risk requiring immediate repair work.
In the case of a recall, the defect is typically brought to your attention by the dealership or manufacturer. A defective vehicle that can be classified as a lemon is not the same as a defective vehicle that has been recalled. Likewise, "recall repairs" (repairs initiated by the manufacturer) do NOT count as "repairs" under the Lemon Law.
The 2017 Chrysler 300 has transmission problems, and electrical system problems. Other complaints have included the check engine light not turning off, loss of power, and noise coming from the engine or brakes.
The worst, and most common, problems involved with the Chrysler 300 all involve the engine; across various model years.

Jeep Lemon Law Claims
Are you having transmission system problems with your new 2017 (or newer) Jeep?
Some consumers are being told that it is a software problem that only requires an update while some are being told their transmission systems are operating "normally" for a 9-speed transmission system. The ZF 9HP transmissions have allegedly caused the Jeep Cherokee, Jeep Grand Cherokee, and Jeep Renegade to lose value, in addition to causing owners repeated trips to Jeep dealerships.
We have been able to help Jeep Compass, Jeep Cherokee, Jeep Renegade, Jeep Liberty, Jeep Patriot, and Jeep Wrangler owners win lemon law claims for problems ranging from transmission system failure, engine stalling, failure to start, and activation of all dashboard warning lights.

Lemon Law Claims on Dodge Cars & Trucks
Recurring transmission system problems such as sudden lunging, stalling, and vibrating are just a few of the complaints we have heard from Dodge owners. Some of the Dodge Dart, Charger, Challenger, Journey, Durango, Ram and Grand Caravans may have similar problems that cause vehicle owners to make repeat trips to the Dodge dealership for the exact same problem(s).
With the Dodge Dart, complaints range from rough over-revving before shifting, failing to shift, making a grinding noise, exhibiting a burning smell, or overheating. These problems are related to the Dual Dry Clutch Transmission (DDCT).
The Ram 1500, Ram 2500, Ram 3500 can also have transmission system problems requiring a lemon law remedy. If your Ram pickup or Dodge Durango SUV is experiencing one or more of the following problems and you have taken your vehicle to an authorized Dodge dealership for repair four or more times for the EXACT same problem, call us to find out if your Dodge is a lemon.
Common transmission system problems we are hearing about the Dodge Ram 1500 from our clients include, but are not limited to:
Hard and erratic shifting;
Transmission slipping;
Lunging when coming to a stop; and
Moving into neutral from a forward gear

Is your 2017 (or newer) Fiat a lemon?
If you are a California resident and you own a Fiat 500e, Fiat 500X and Fiat 124 Spider, Promaster, or Ram Promaster City and are experiencing problems such as the car completely shutting down without any warning, transmission problems, airbag and check engine lights that keep coming on, fluid leaks, or any transmission problems and you have had your vehicle in for repair for the exact same problem four or more times, give us a call and we will help you determine whether or not you can file a lemon law claim.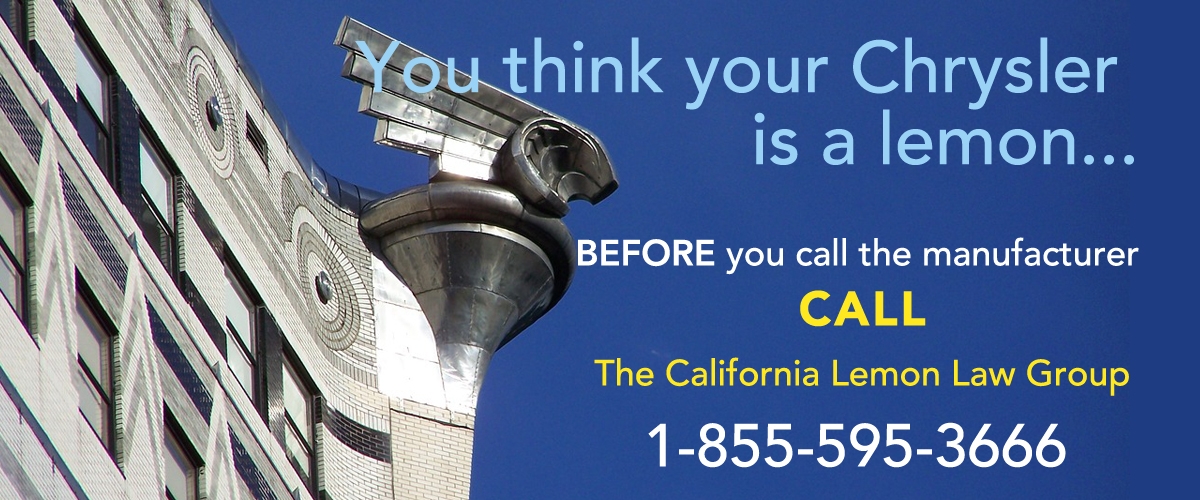 If you think that your Chrysler may be a lemon, it is best to call a lemon law attorney right away. You can call the 800 number in your owner's manual to ask the manufacturer for help, but chances are the manufacturer will not assist you. Many vehicle owners that have called the manufacturer directly are often told that they do not have a lemon law case but they are welcome to continue bringing their car in for warranty repairs and their warranty will always be honored.
In some cases, the warranty is still honored. However, once you call the manufacturer directly about a lemon law claim, they know that you may be trying to build a lemon law case and they may flag your vehicle's identification number in their computer system so that the next time your bring your vehicle in for a warranty repair, you end up with a repair invoice that states "no problem found" which means that the dealership did not verify the problem you have complained about and they did not make any repairs. This is the worst case scenario.
The California Lemon Law provides that when a manufacturer cannot repair a vehicle after a reasonable number of repair attempts and the defect is substantial, it must either replace the defective vehicle or refund the consumer's money. The buyer need only provide the manufacturer with a reasonable opportunity to fix the vehicle.
If you have a lemon, look no further than Debbie and her team. I cannot express enough how great she was during the entire process from, intake to resolution. I was updated at every step and was told beforehand what to expect, and in the end, she won our claim against the manufacturer. The entire case took about 2.5 months, which is extremely quick. Whenever I had questions I knew an email reply would be coming the same day. Best of all, I only had to call them once. Everything else was handled by email. After a few exchanges I knew she was effective and detailed. Thank you Debbie for your great work!

Josh L.
San Diego, CA
Originally posted on Yelp
Considering that our Lemon Law Services are ALWAYS FREE — to California residents — there's no need for you to try to deal with a lemon vehicle on your own!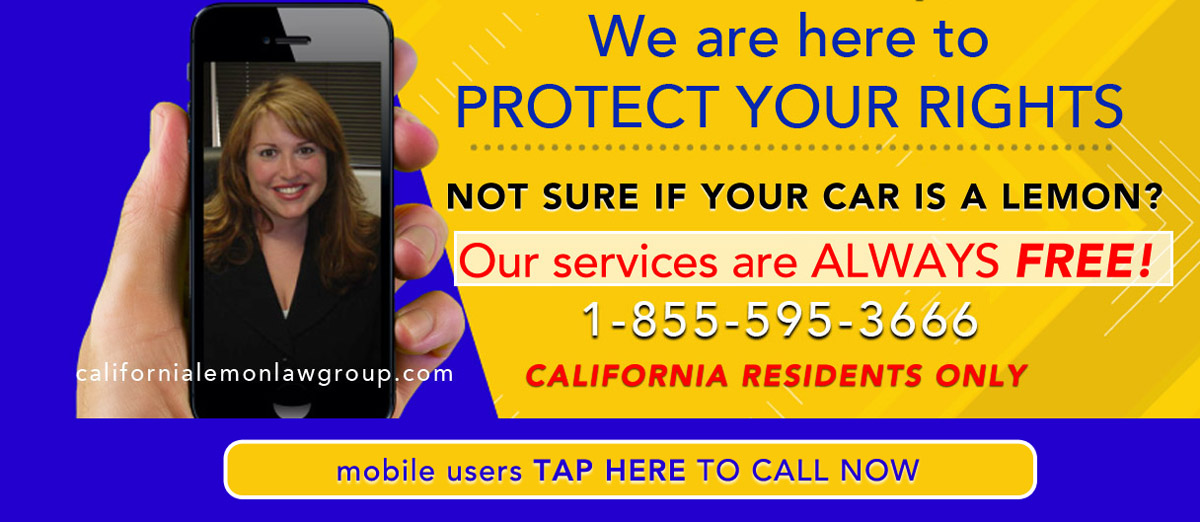 Call us toll free at 1-855-595-3666
for a free Lemon Law case evaluation.
This firm is professional and efficient. My case was closed in less than a year and went smoothly from start to finish. They have excellent communication and keep you updated on the progress of your case. I couldn't have found a better attorney to go through for my lemon buyback!

Brianna H., Temecula, CA
Originally posted on Yelp.
Updated February 2021