Last Updated: May 2021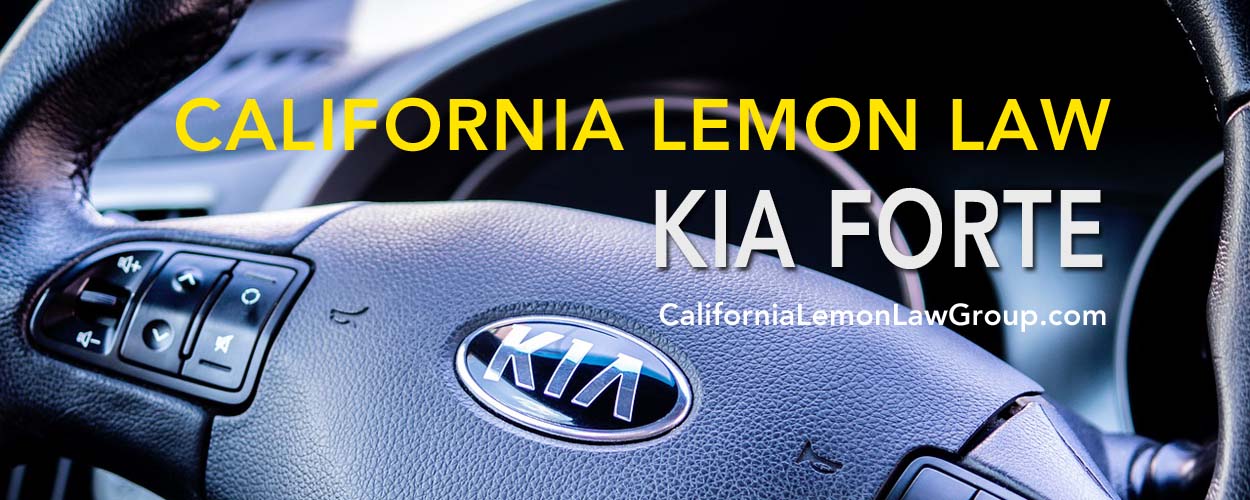 One of Kia's most popular cars, the Kia Forte, has numerous and serious engine problems. Some of the the complaints that we have heard about from 2017 to 2021 Kia Forte owners include, but are not limited to:
Rough idling
Engine stalling
Loss of engine power
Engine misfiring
Persistent check engine light
Vehicle lunges forward
Both Hyundai (the parent company of Kia Motors) and Kia vehicles have suffered from engine system defects that may cause stalling and non-crash fires for more than five years; model years prior to 2017 equipped with the Theta II engine.
Nearly 7 million Kia and Hyundai vehicles have now been recalled because of the potential for non-crash fires, including nearly 1 million this year alone. And with multiple defects linked to the fires, auto safety advocates tell Kane In Your Corner that they are unsure how soon the problem can be brought under control. (Source: News 12)
What Makes Your Vehicle a Candidate for a California Lemon Law Case?
Generally speaking, any 2017 to 2021 vehicle with safety-related defects can be a lemon in California. Defects that are considered safety-related include:
Transmission system problems, including jerking into gear, failure to shift properly, and hesitation on acceleration or deceleration,
Steering components that break suddenly causing partial or complete loss of vehicle control,
Problems with fuel system components, particularly in their susceptibility to crash damage, that result in leakage of fuel and possibly cause vehicle fires,
Accelerator controls that may break or stick,
Seats and/or seat backs that fail unexpectedly during normal use,
Critical vehicle components that break, fall apart, or separate from the vehicle, causing potential loss of vehicle control or injury to persons inside or outside the vehicle,
Wiring system problems that result in a fire or loss of lighting,
Stalling,
Brake system failure,
Engine system failure, activation of the "CHECK ENGINE" warning light, activation of the "LOW OIL" warning light, 
Failure to start
In order for us to obtain a full lemon law repurchase for you pursuant to California's Lemon Law, we have to prove 3 things:
Your vehicle was taken to a factory authorized dealership for a specific defect four or more times (for the exact SAME problem each time) OR the vehicle was taken to a factory authorized dealership for one single repair for a substantial defect that took more than 30 days to complete; and
The defect cannot be repaired under the original factory warranty after four or more repair visits; and
The defect substantially impairs your use, value, or safety.
Kia Class Actions
Under a settlement deal, Hyundai agreed to resolve Kia engine failure class action claims for eligible Kia owners. Owners of Class vehicles originally equipped with the Theta II 2.0-liter or 2.4-liter gasoline direct injection engine are eligible for benefits from this settlement. For this particular class action, Class vehicles include:
2011-2018 and certain 2019 model year Kia Optima and Sportage vehicles; and
2012-2018 and certain 2019 model year Kia Sorento vehicles.
NOTE REGARDING KIA CLASS ACTIONS:
We most likely cannot assist you if your vehicle is included in a class action in progress, or if you own one of the above mentioned models in the class action that has already been settled. If you are not sure, give us a call and we can check this for you.
If you received a notice of a class action and you did not Opt Out, chances are you are included in the class action and you have given up your right to sue Kia individually.
We cannot assist you if your vehicle is older than 2017 or if you purchased the vehicle outside the state of California

Considering that our Lemon Law Services are ALWAYS FREE — to California residents — there's no need for you to try to deal with a lemon vehicle on your own!