Last Updated: April 2014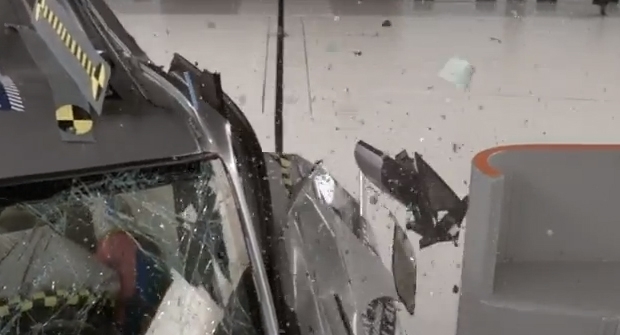 The independent Insurance Institute for Highway Safety (IIHS) released crash test ratings on April 8, 2014, and fortunately for GM, they had two of its midsize SUVs rank the safest in their segment.  The 2014 Chevrolet Equinox and its GMC twin, the Terrain, were the only vehicles to earn the "Good" rating from the IIHS.  Due to stiffer requirements most new cars fail to earn the IIHS' top safety ratings.
The coveted "Top Safety Pick Plus" ranking was also granted to Toyota's 2014 Highlander, though the Highlander only earned an "Acceptable" rating in the small overlap crash test.   To earn these rankings, vehicles need to rate as "good" on four crash tests and have "good" or "acceptable" performance on a small overlap crash test (where the front corner of a car hits an object).  In addition, vehicles also must have at least an optional forward collision warning feature that alerts drivers to the possibility of running into another vehicle.
Who ranked last?  Surprisingly, it was the Honda Pilot, which had excelled in previous crash tests.  This year the Honda Pilot scored a "Poor" ranking since the driver space was "seriously compromised" by the overlap crash test.
The other vehicles tested were 2014 models of the Jeep Grand Cherokee, Toyota 4Runner, Ford Explore, Kia Sorrento, and Mazda CX-9.  None of which were named a Top Safety Pick.
From IIHS.ORG
To qualify for 2014 TOP SAFETY PICK, a vehicle must earn good ratings in the moderate overlap front, side, roof strength and head restraint tests, as well as a good or acceptable rating in the small overlap front test.

To qualify for 2014 TOP SAFETY PICK+, a vehicle must meet the TOP SAFETY PICK criteria, plus earn a basic, advanced or superior rating for front crash prevention.

Models that earn TOP SAFETY PICK+ or TOP SAFETY PICK are the best vehicle choices for safety within size categories. Size and weight influence occupant protection in serious crashes. Larger, heavier vehicles generally afford more protection than smaller, lighter ones. Thus, a small car that's a TOP SAFETY PICK+ or TOP SAFETY PICK doesn't necessarily afford more protection than a bigger car that doesn't earn the award.
Click here to view the Top Safety Picks by year (2006-2014)