Last Updated: November 2021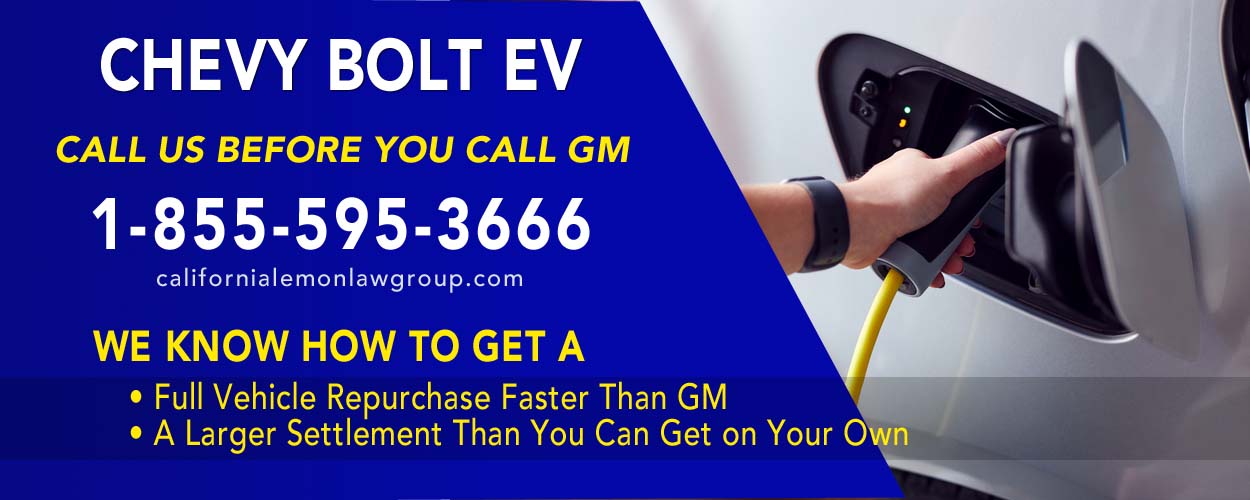 If you are the owner of a 2017 to 2022 Chevrolet Bolt EV and you have received a recall notice for the high voltage battery defect, please call or email us to see if we can assist you with a lemon law case. It is always better to speak with a lemon law attorney before you contact the automobile manufacturer on your own as lemon law attorneys can almost always negotiate a better deal for you than you can obtain on your own.
In addition, we have received numerous calls from irate consumers who have contacted GM and asked for a buyback of their 2017 to 2022 Chevrolet Bolt and GM has agreed to a buyback, but then GM has dropped the ball and failed to communicate further regarding the buyback offer for months. If this has happened to you, please call us immediately for assistance with a buyback. As lemon law attorneys, we can negotiate a better deal for you than you can negotiate on your own.
The 2017-2022 Chevrolet Bolt is a 4 door, 5 passenger, fully electric vehicle made by General Motors. Equipped with 65kWh of Lithium-ion batteries, and a Voltec drive system, Chevrolet states that this car is capable of making 200 horsepower. The 2017-2019 Bolt has a stated range of 238 miles, while the 2020-2022 Chevrolet Bolt has a range of 259 miles.
Chevrolet Bolt Recall History:
On August 30, 2018, Chevrolet issued Recall 18V57600 stating there may be an insufficient coating on the rear brake caliper pistons, which could cause gas pockets between the rotor and caliper, reducing braking performance.
On October 3, 2018, Chevrolet issued recall 17297, High Voltage Battery Pack Low Cell, for the 2017 Chevrolet Bolt EV. Chevrolet also released recall 18097 and this recall was required because the high voltage battery could cause a loss of propulsion without notification. This sounds a lot like a deadly stalling condition.
On March 26, 2020, Chevrolet issued Recall 20V184000 concerning the possibility that rear door handles may open during driving, or fail to close properly due to an improperly manufactured door handle cable that may wear out and fail over time.
On November 13, 2020, Chevrolet issued another recall for the high voltage battery on the 2017 Chevrolet Bolt EV. This time, recall N202311730 was issued due to the risk of fire and the charge on the battery was being reduced to ninety percent. General Motors stated, "GM will notify owners, and as an interim repair, beginning on November 17, 2020, dealers will reprogram the hybrid propulsion control module 2 (HPCM2) to limit the full charge to 90%, free of charge. Owners are advised to activate either the Hill Top Reserve (2017 and 2018 models) or Target Charge Level (2019 models) feature in their vehicle to limit the charge level to 90%, or park outside, until the software update is completed. The final remedy is still under development. Owners will be notified of the interim repair beginning November 23, 2020. A second notice will be mailed when the final repair becomes available. Owners may contact the Bolt EV Concierge Team at 1-833-382-4389. GM's number for this recall is N202311730."
On April 30, 2021, General Motors announced that they could improve upon the November 2020 recall. "That software will also be standard equipment on all new Bolts. GM has told the NHTSA that "Owner notifications of the final remedy are estimated to occur in two phases; the first on May 13, 2021, to address 2019 model year vehicles and the second on May 31, 2021, to address remaining vehicles."
On July 23, 2021, recall N212343880. This recall stated, "General Motors has decided that a defect which relates to motor vehicle safety exists in certain 2017-2019 model year Chevrolet Bolt EV vehicles. A certain number of these vehicles were built with high voltage batteries produced at LG Chem's Ochang, Korea facility that may pose a risk of fire when charged to full, or very close to full, capacity. GM previously recalled these vehicles for this condition. Through additional investigation, experts from GM and LG have now identified the root cause, and GM is commencing a new recall to replace defective battery modules in the recall population."
General Motors described the safety risk as, "If the batteries in certain vehicles within this population are charged to full capacity, or very close to full capacity, the batteries may pose a risk of fire." And General Motors described the repair as follows, "The remedy will be the replacement of defective battery modules in the recall population. Until the updated recall remedy is performed, customers should take the following interim steps:
(1) Customers should, whether or not they received the current software update, return their vehicle to the 90% state of charge limitation using Hilltop Reserve mode (for 2017-2018 model years) or Target Charge Level (for 2019 model year) mode. If customers are unable to successfully make these changes, or do not feel comfortable making these changes, we are asking them to visit their dealer to have these adjustments completed.
(2) Additionally, we ask that customers charge their vehicle after each use and avoid depleting their battery below approximately 70 miles (113km) of remaining range, where possible.
(3) Out of an abundance of caution, customers should continue to park their vehicles outside immediately after charging and not leave their vehicles charging overnight. Owners who have not visited their dealer to receive the original recall remedy should visit their nearest Chevrolet dealer to obtain this important software update, which includes a diagnostic check on the health of their vehicle's battery system. After obtaining the software update, customers should still take the interim steps summarized above." GM's stated 'fix' for this problem is a full battery replacement. GM does not currently have new batteries, and thus the wait time is unknown.
On August 20, 2021 Chevrolet issued Recall 21V650000 for all 2020-2022 Chevrolet Bolts. The problem and the fix are identical to the above recall (21V560000) and GM has no estimated date when the batteries will be replaced.
Do not contact GM for a lemon law buyback until you speak with us first!
There is no ETA for GM's battery replacement fix. Dealerships do not have extra battery packs to put in recalled Chevrolet Bolts. Some dealerships are recommending that consumers contact GM for a possible buyback. GM is not reliably answering the phones and is not delivering on buybacks in a reasonable amount of time. For that reason, before you contact GM, please call us first.
As lemon law attorneys, we are able to get our clients a full vehicle repurchase faster than GM, and in many cases, larger settlements than GM is required to offer.
We are experienced lemon law attorneys and we are able to negotiate a better deal for you than you can negotiate for yourself.  And as always, GM pays for our legal fees and costs. Our clients do not have to pay for our attorney's fees or costs.
Give us a call at 1-855-595-3666
The California Lemon Law Group works only with California residents.